For a city bustling with over 8 million people, certain areas of Mexico City were relatively quiet. But a dreamy quiet, as opposed to an eerie where-the-hell-is-everyone quiet. From the wisteria-lined streets of glitzy romantic Polanco, to the chill, epicenter of cool-Roma Norte, you can find a piece of heaven in every barrio of this city.
WHERE TO STAY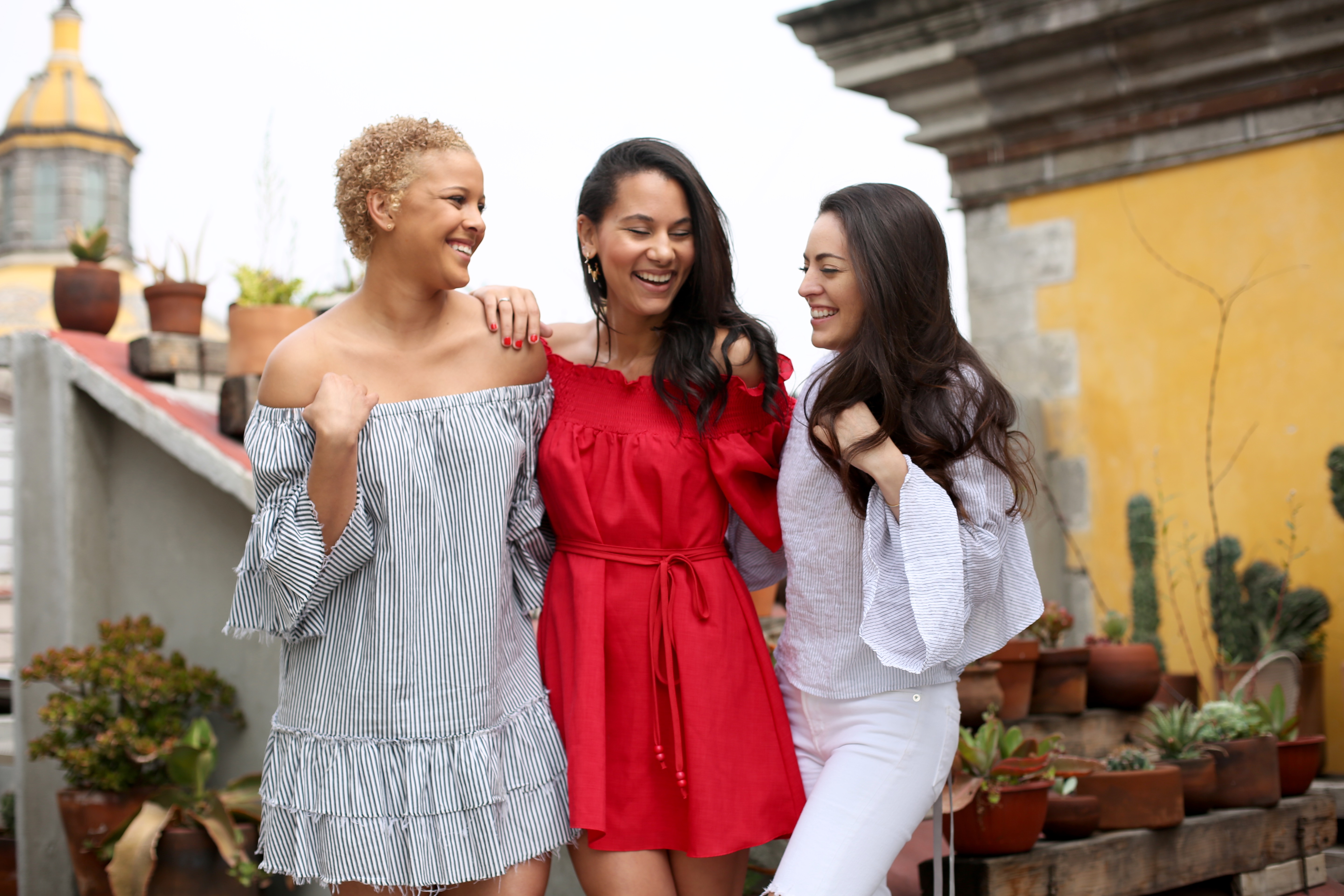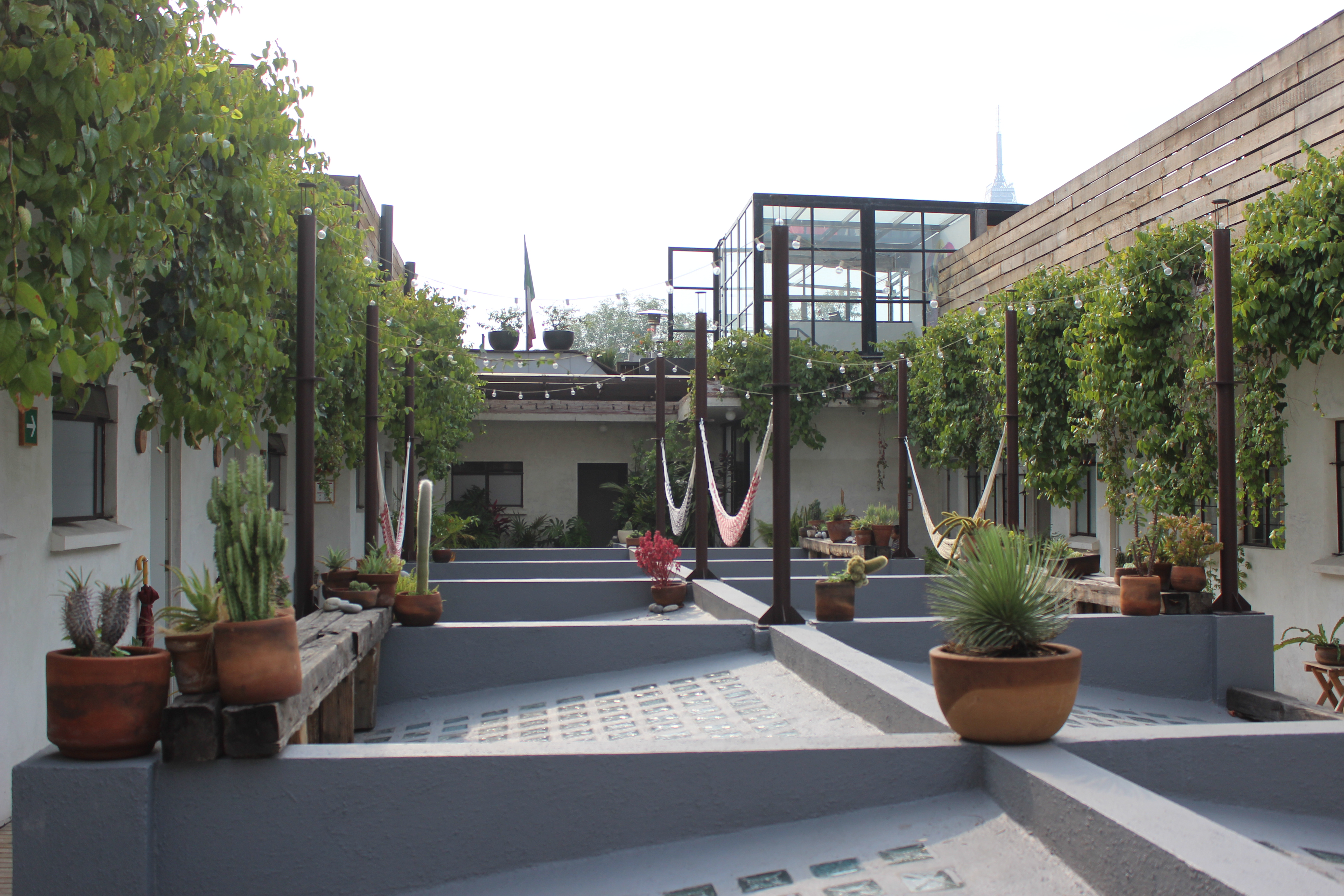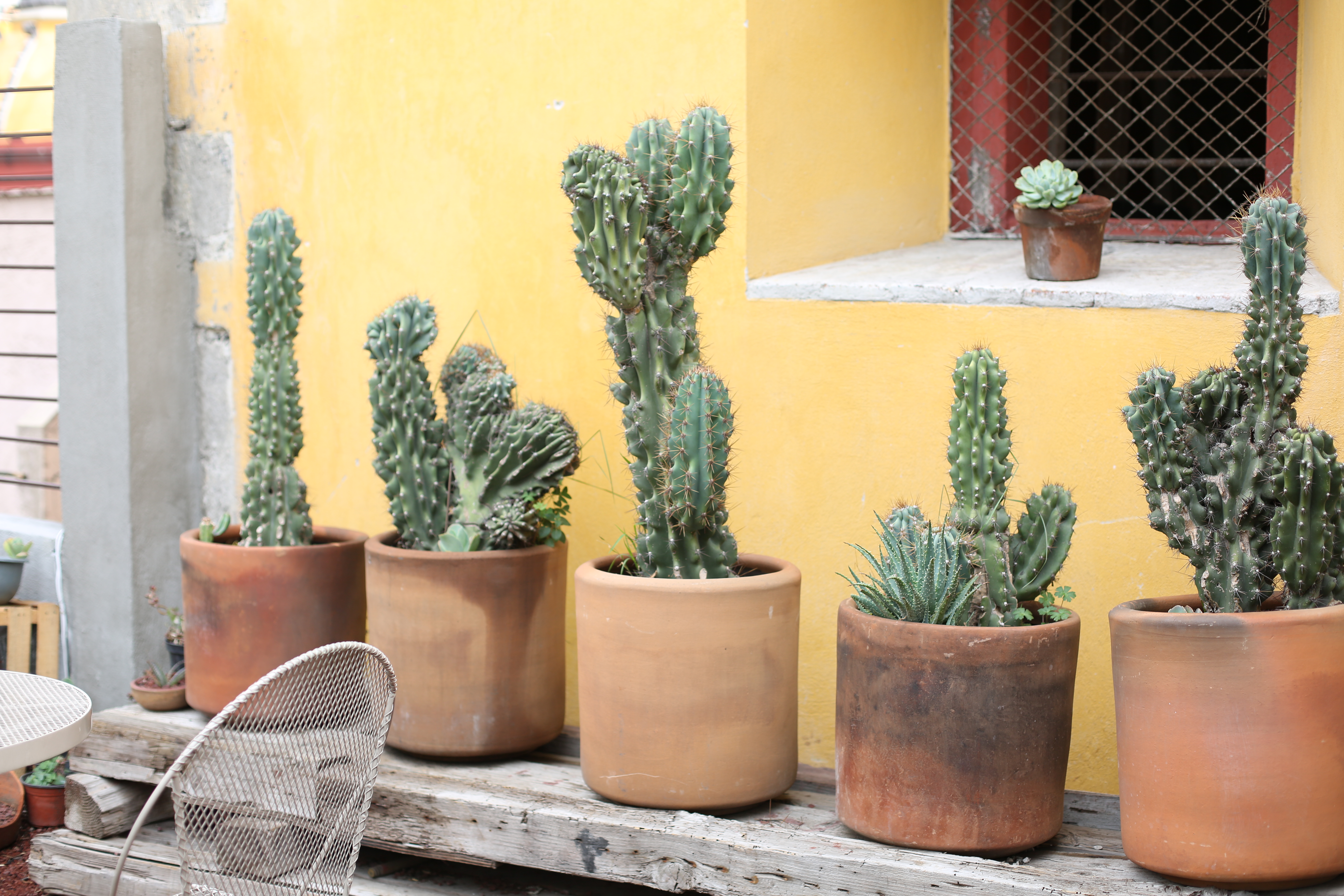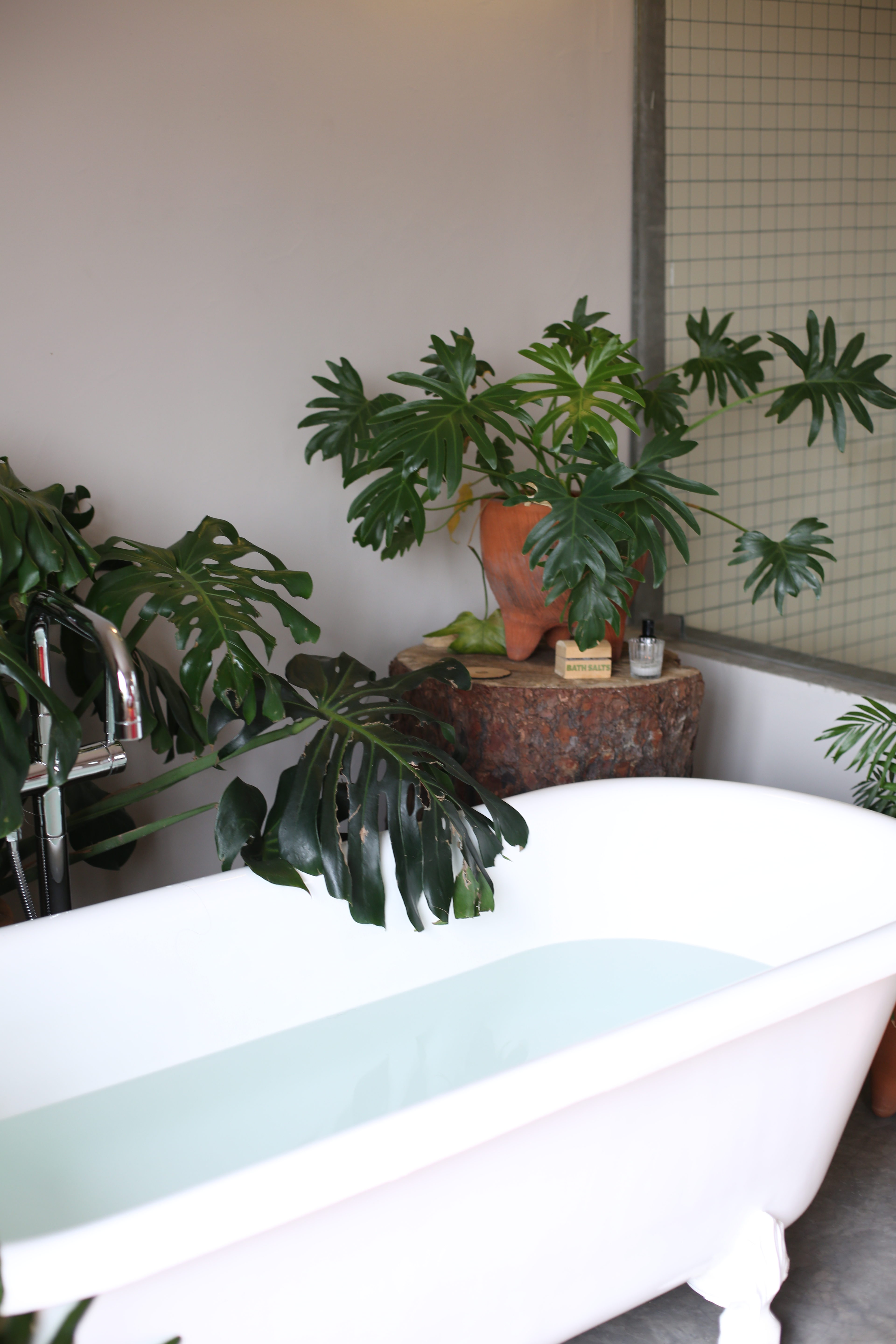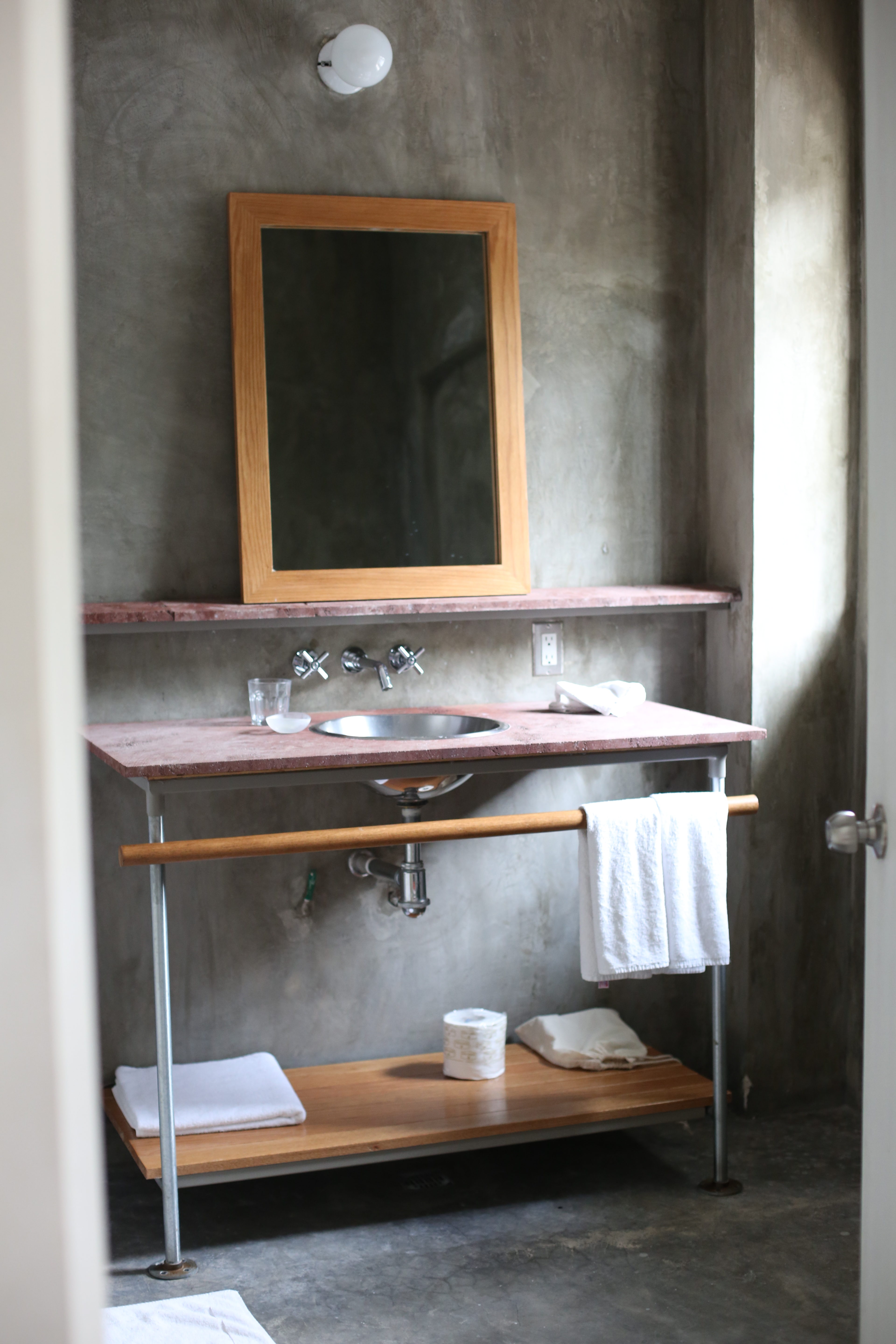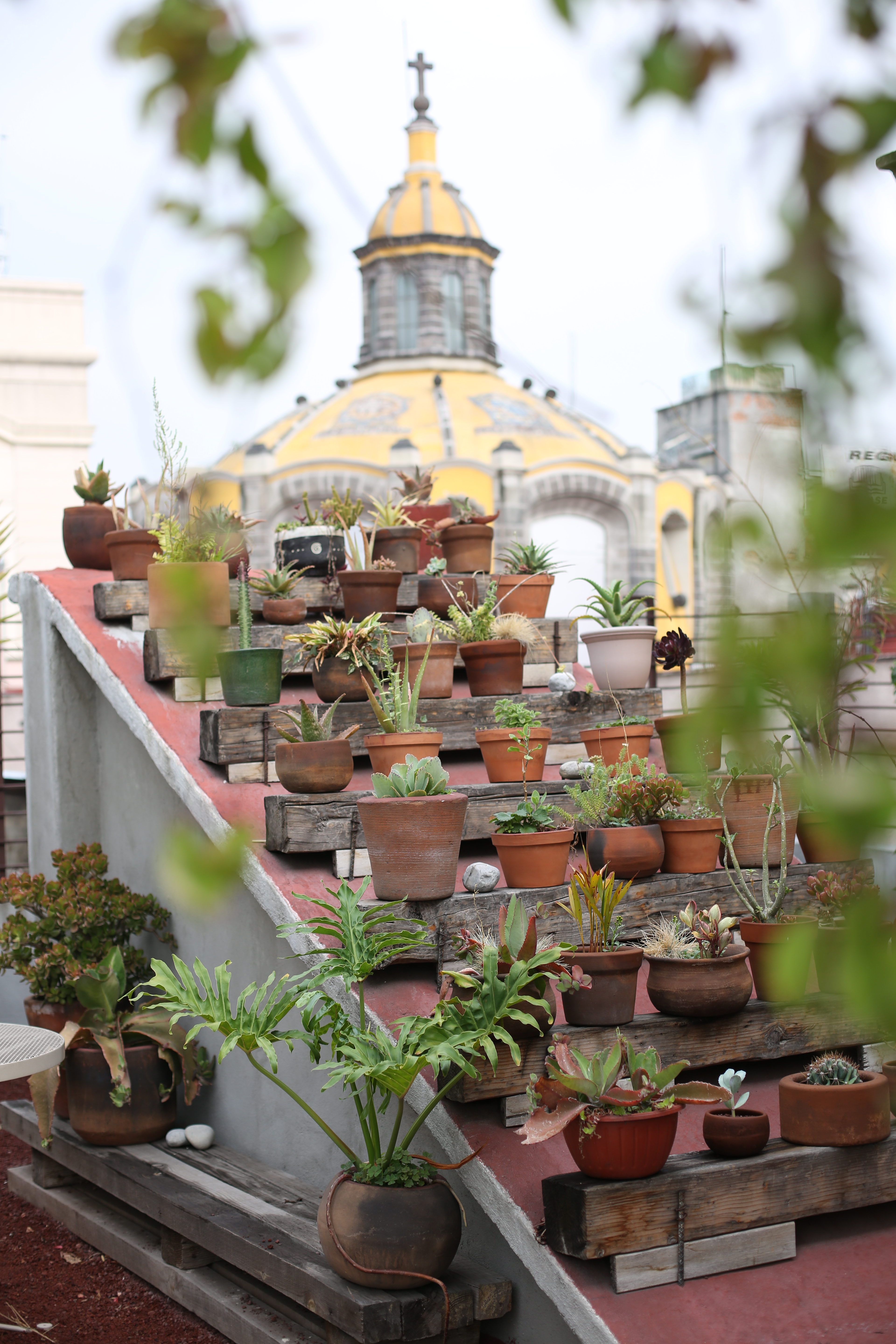 Chaya B&B: A few years ago, two brothers came together to create the ultimate bed and breakfast in downtown Mexico City. Mauricio Carbonell, along with his brother Luis, envisioned running a sustainable, airy hotel equipped with amenities that highlight the talent of local craft and taste-makers. What stemmed from their architectural and hospitality backgrounds was Chaya B&B. They bought an old property in downtown Mexico City and converted it into a running bed and breakfast with total of 11 rooms, all varying in size and charm. The most breathtaking feature of Chaya is it's rooftop and vicinity within downtown. Guests can enjoy themselves on the hammocks and listen to the sounds of the city, all within the comfort of Chaya. After receiving a tour from Mauricio himself, we are very eager to follow his journey to see what plans he has next for Chaya and beyond! Check out more of Chaya B&B here.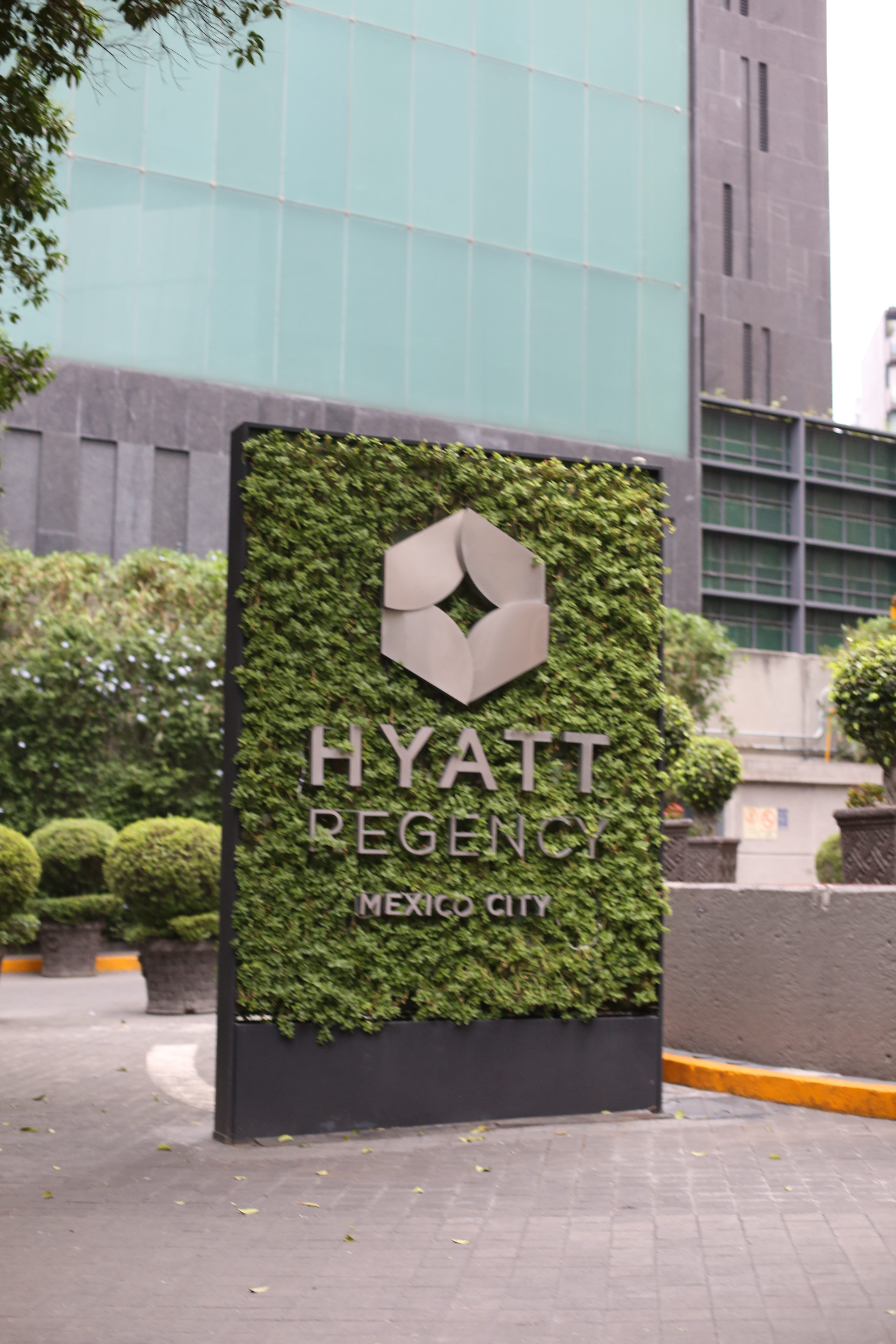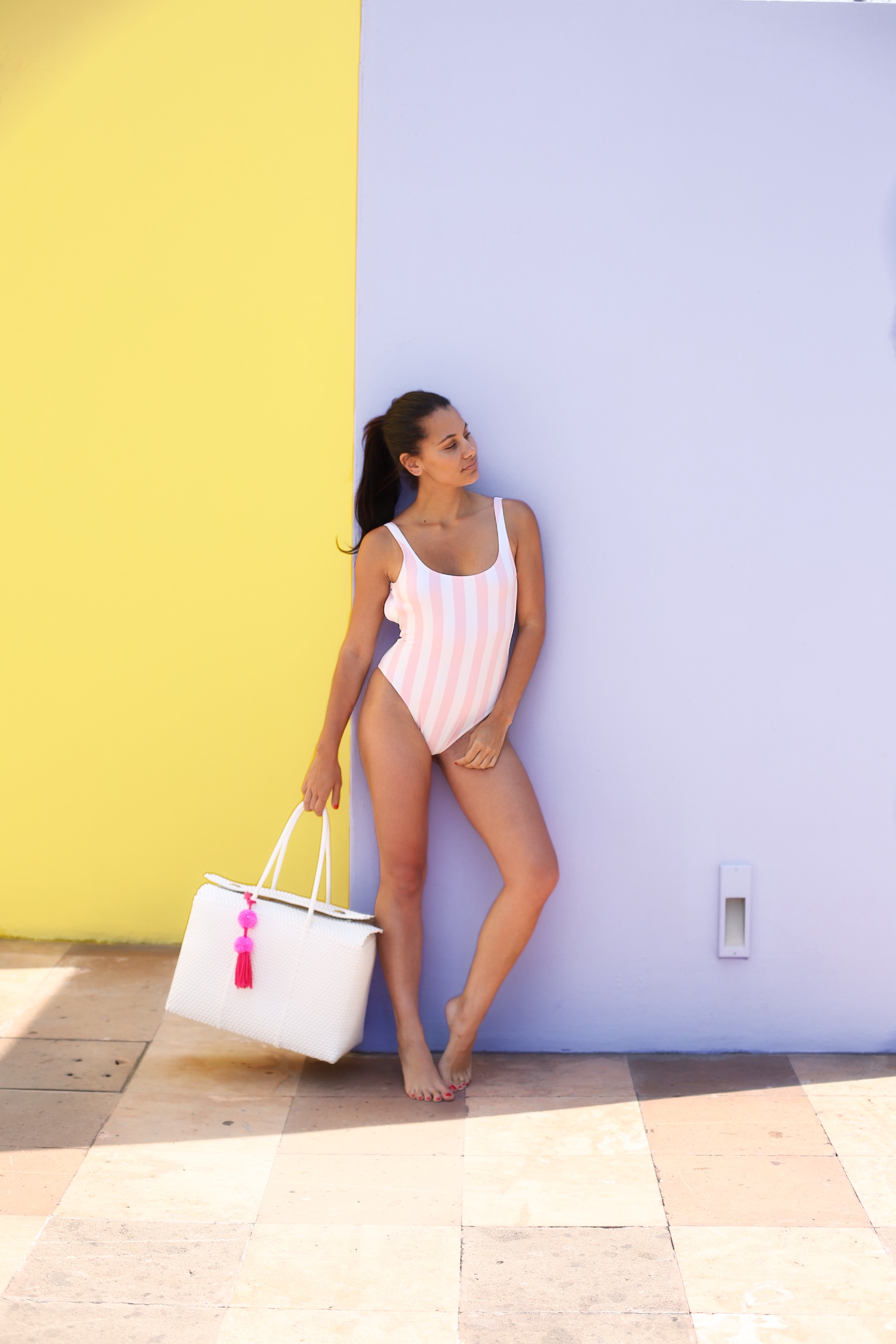 Hyatt Regency Mexico City: We spent a portion of our stay at the Hyatt Regency CDMX. The property is in a prime location close to many attractions including Chapultepec Castle, located in one of the largest city parks in the Western Hemisphere, neighboring restaurants and shops in Polanco. We spent our last morning soaking up some rays on the rooftop deck.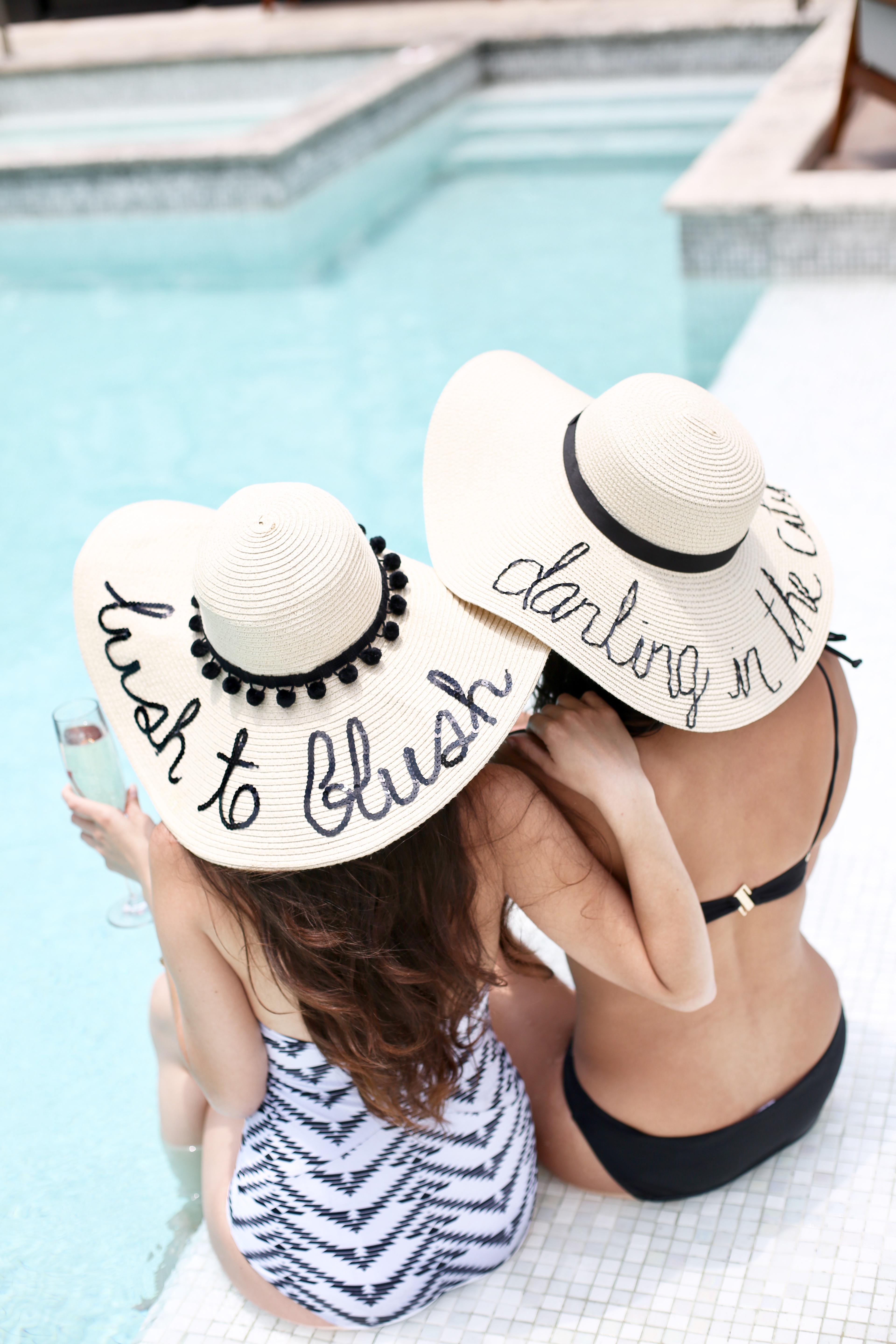 Hilton Santa Fe: Hilton Santa Fe is the perfect for anyone seeking a pampered stay away from the hustle and bustle of the city. Located in the business district of Santa Fe, this Hilton property offers amenities that can't be matched with in-city hotels. Highlight? Their gorgeous rooftop pool with unobstructed 360-degree views of the whole city. Read about our fun pool day at the Hilton Santa Fe here.
AirBnB: I have yet to have an Airbnb stay that was anything short of incredible. We began our stay with an Airbnb located in the Condesa neighborhood. We wanted a truly unique Mexico City experience, so what better way than to live like a local for a few days?
WHAT TO SEE & DO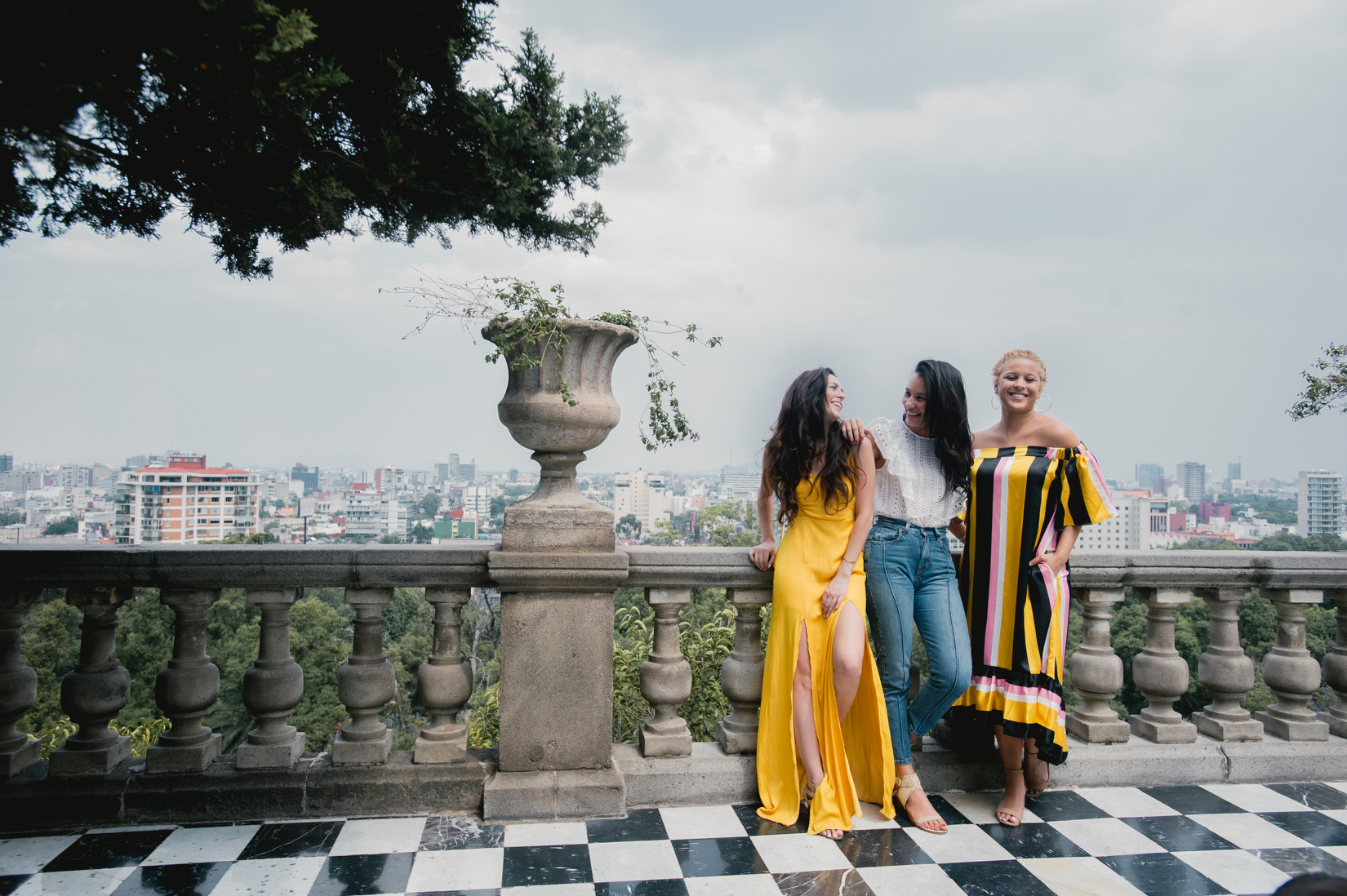 Castillo de Chapultepec: A grandiose castle located at the top of a hill in Polanco. Below the castle is Chapultepec Park, where you can find musicians, performers and street vendors selling food, trinkets, and namesakes. There are two lakes where you can paddle-boat in huge swans and enjoy the day. The size of the actual park is almost twice as big as Central Park in New York City! The park is surrounded by modern art structures and mini botanical gardens. Once you trek to the top of Chapultepec, you will find a castle that is just oozing with grandiosity. Inside, there are carriages dating back centuries, wardrobes from various eras, and the best vistas of the city. Here you can find the infamous checkered floors that is every blogger's dream. NOTE: Don't bring a professional camera, you will get promptly removed from the premises. Bosque de Chapultepec I Secc, 11100 Mexico City, CDMX, Mexico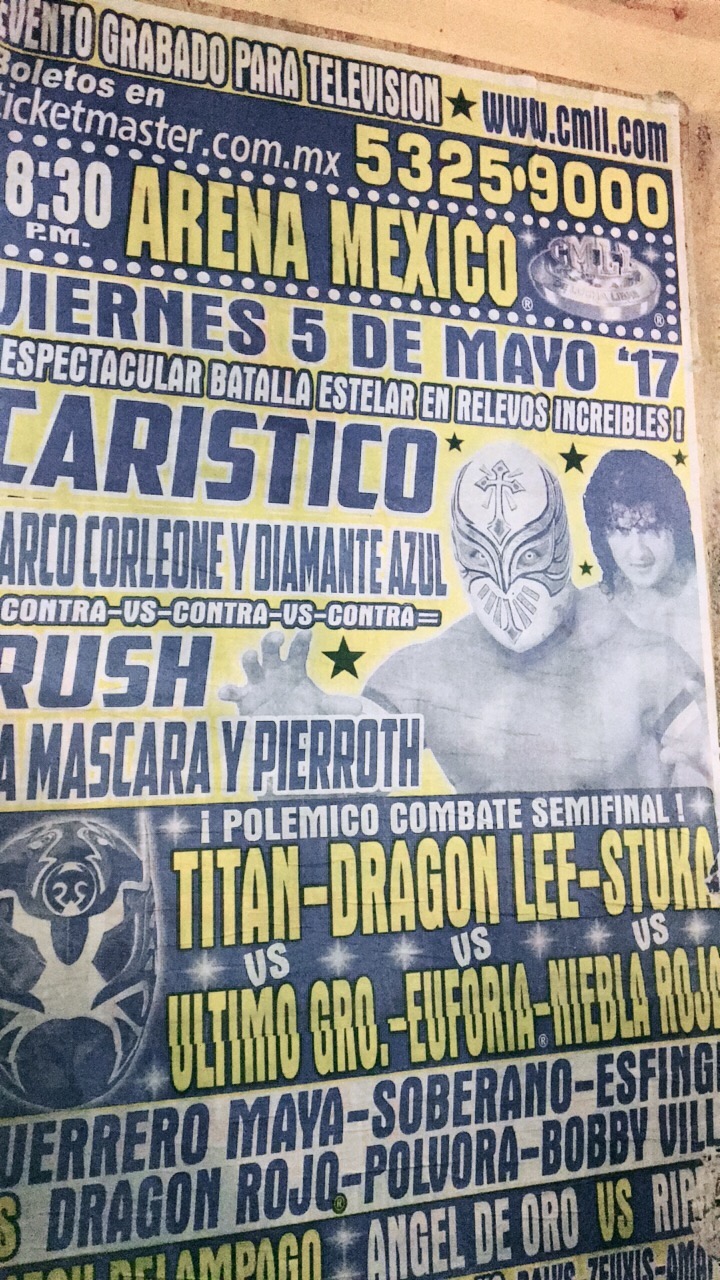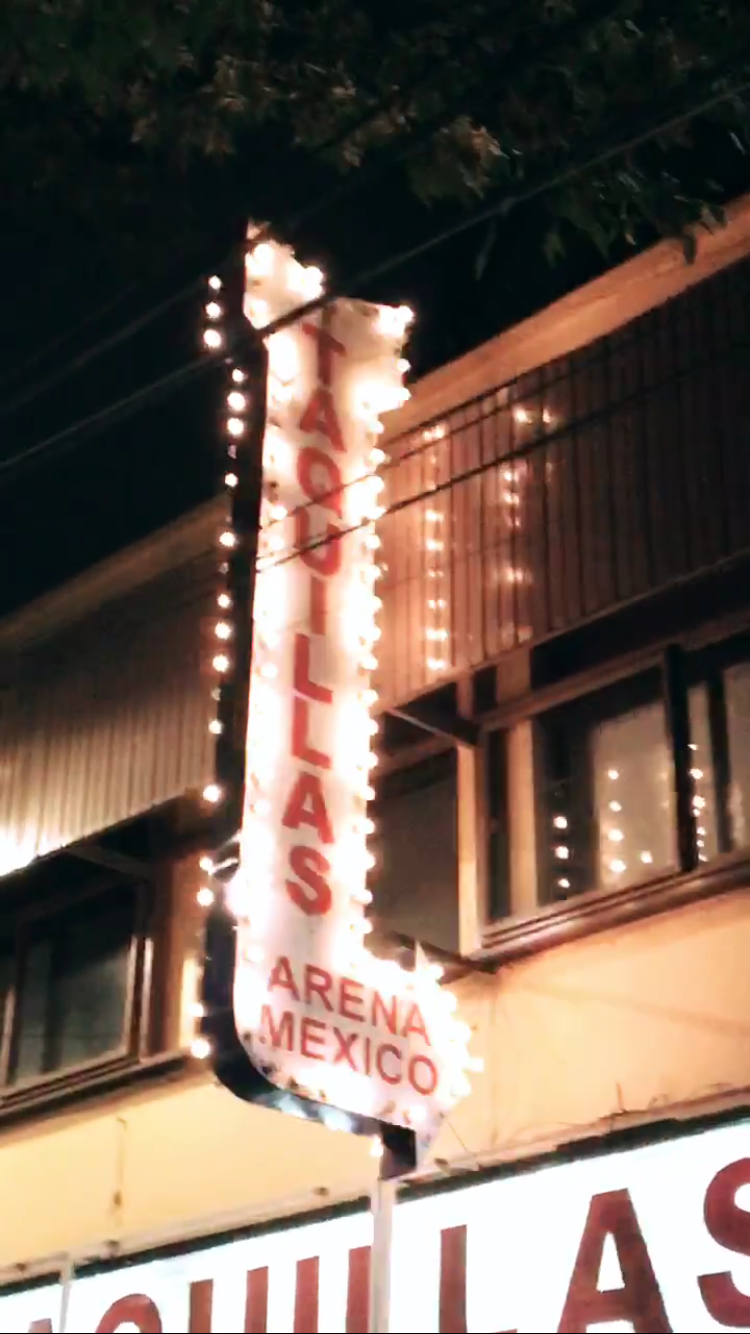 Lucha Libre – Arena Mexico: LAS LUCHAS!!!! So epic. Before going, I asked quite a few friends and locals about how to buy tickets for a match. They can easily be bought on Ticketmaster or at the door. What they did all comment on was the fact that the arena is located in a not-so-safe area of town. With that being said, we were extremely cautious to the point that we went with a male companion! I felt so silly when our Uber pulled up to the area. This arena looked no different than the typical venue back home: scalpers everywhere, excitement in the air and street vendors selling merch. I felt pretty safe, but I will advise to keep your purse in front of you at all times as the crowds and lines were a little close. BESIDES ALL THAT, lucha was amazing. It was so over-the-top and extravagant with scantily-clad female presenters, mini acrobat performers, and fireworks + pyrotechnics. The wrestlers themselves were quite the characters: there was Ranchero, a buff traditional ranchero wearing a huge sombrero and slinging around his guitar; Beast Reaper dressed in all black with his long curly locks and glistening horns protruding out of his mask; you get the point: these guys are awesome! Can't forget to mention that the show started with female wrestlers (although, they fought without their masks). So attend a match, pick your favorite wrestler and cheer them on! Something to note: be wary when ordering the huge jugs of beer that are sold by vendors walking up and down sections. One of the girls got super sick after she bought a cerveza that looked darker in comparison to the ones we ordered! Calle Dr. Lavista 197, Doctores, 06720 Ciudad de México, CDMX, Mexico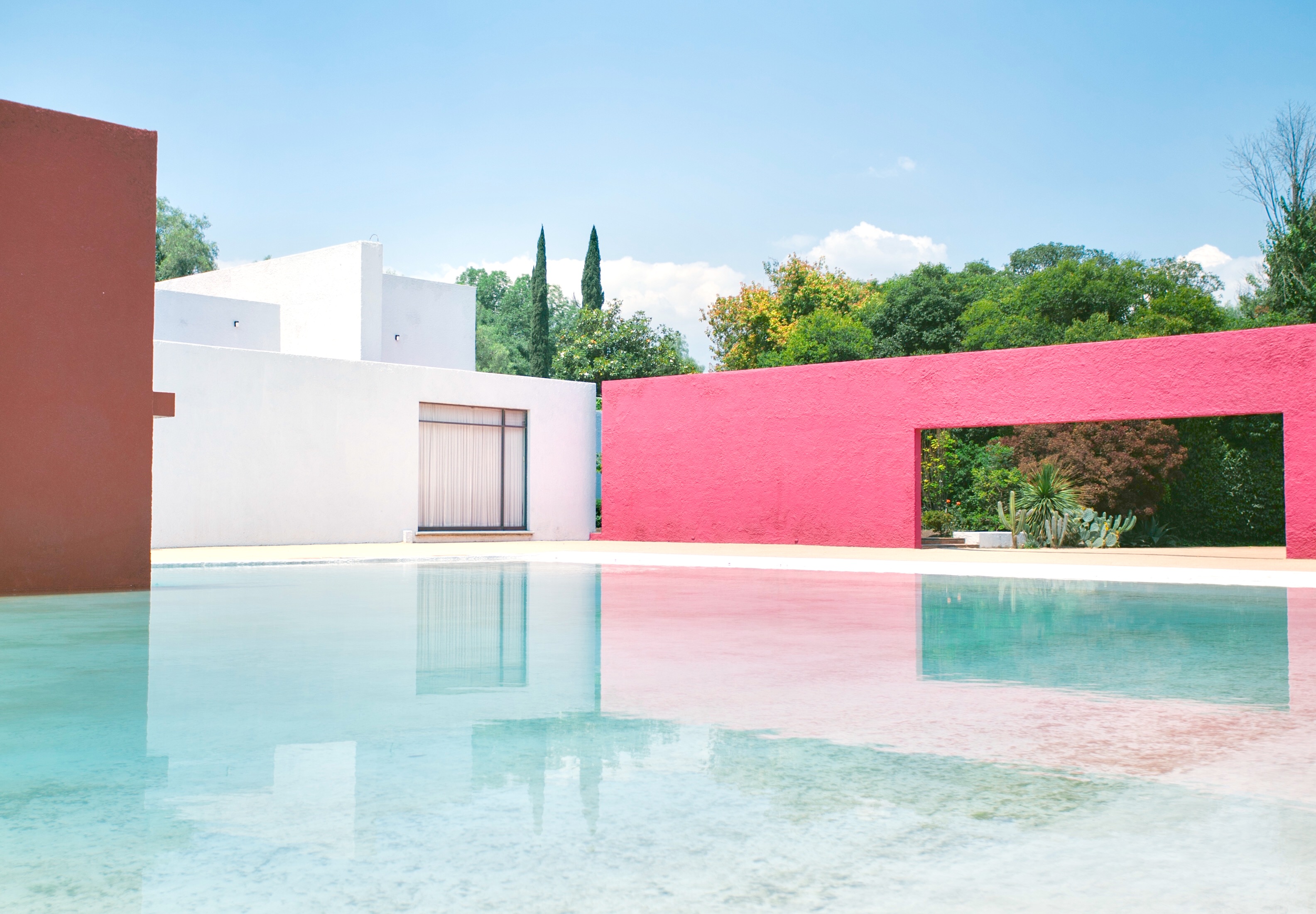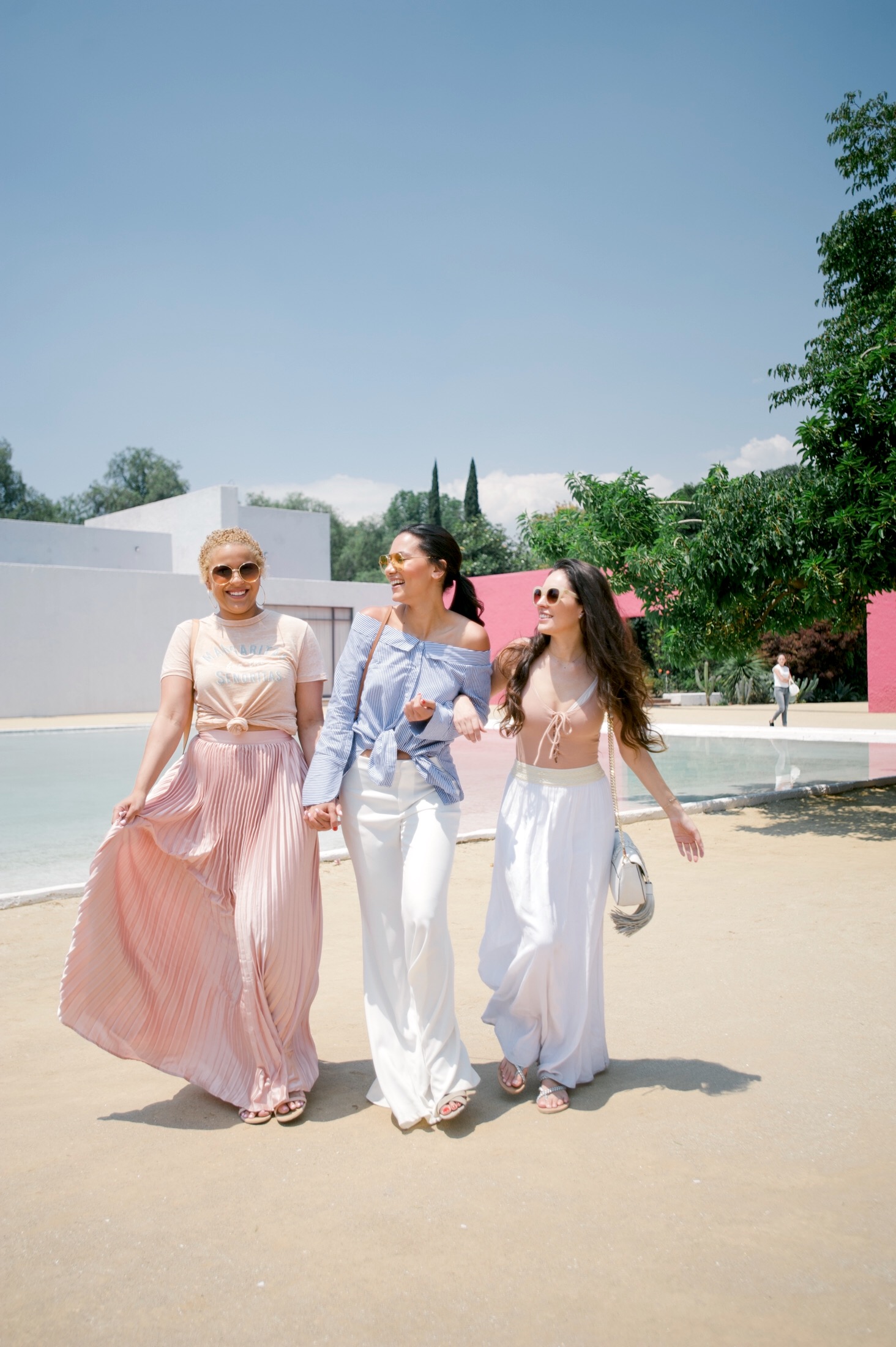 Cuadra San Cristobal: Gorgeous horse ranch designed by the late Luis Barragan. Be prepared to be blown away by the combination of colors and their seamless incorporation with the architectural design. The property is privately owned but you can make an appointment to visit online. Cuadra San Cristobal is still a functioning ranch with 12 retired horses and 1 horse that occasionally rides. If you're lucky, you may catch one of these majestic beauties trotting across the grounds or cooling off in the horse pool. Check out my full post on the property here. Note: If you plan on bringing a camera of any sort that isn't a phone, there is a $50 fee. Manantial East 20, Atizapan, MEXICO CITY, Mexico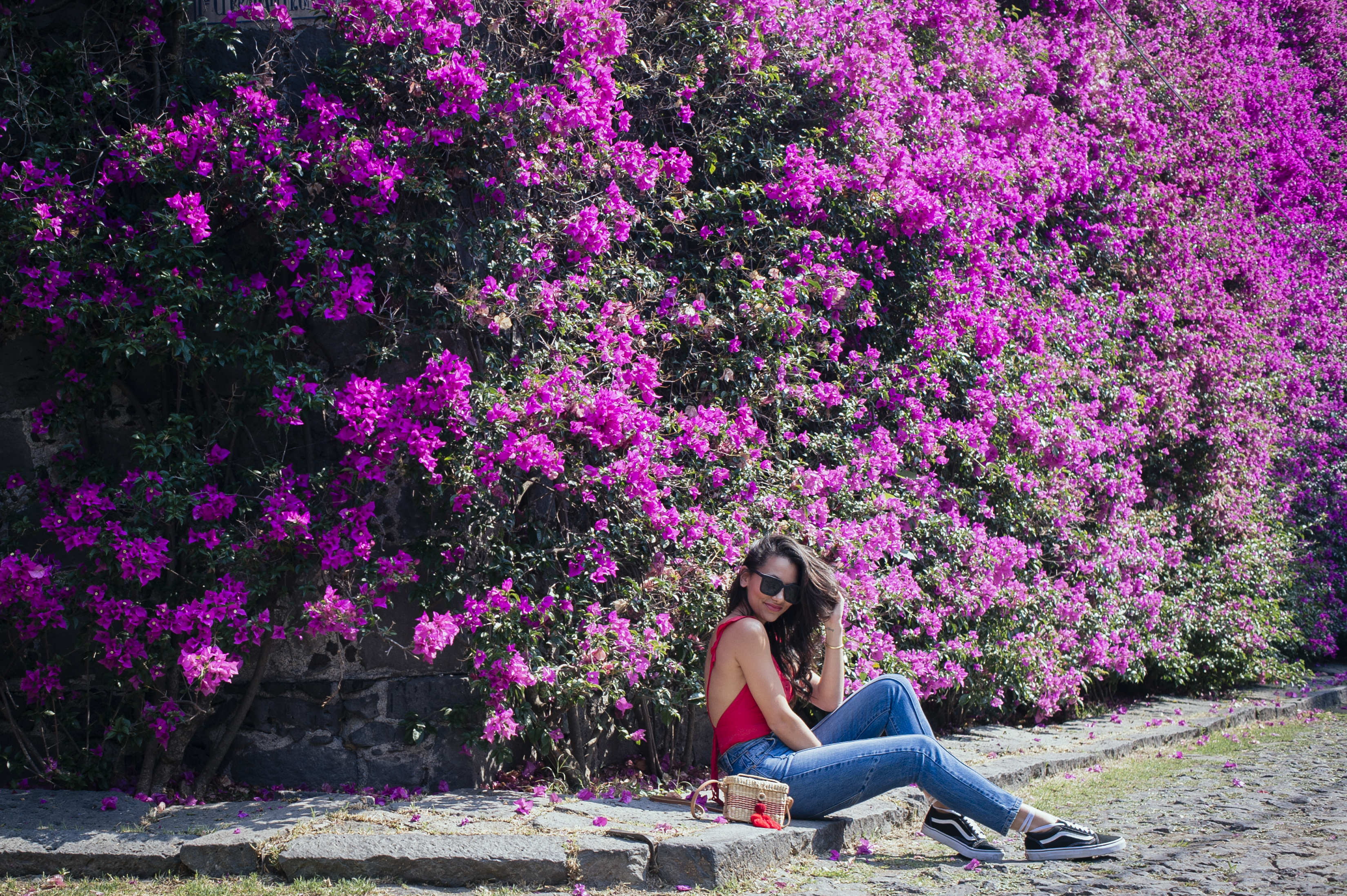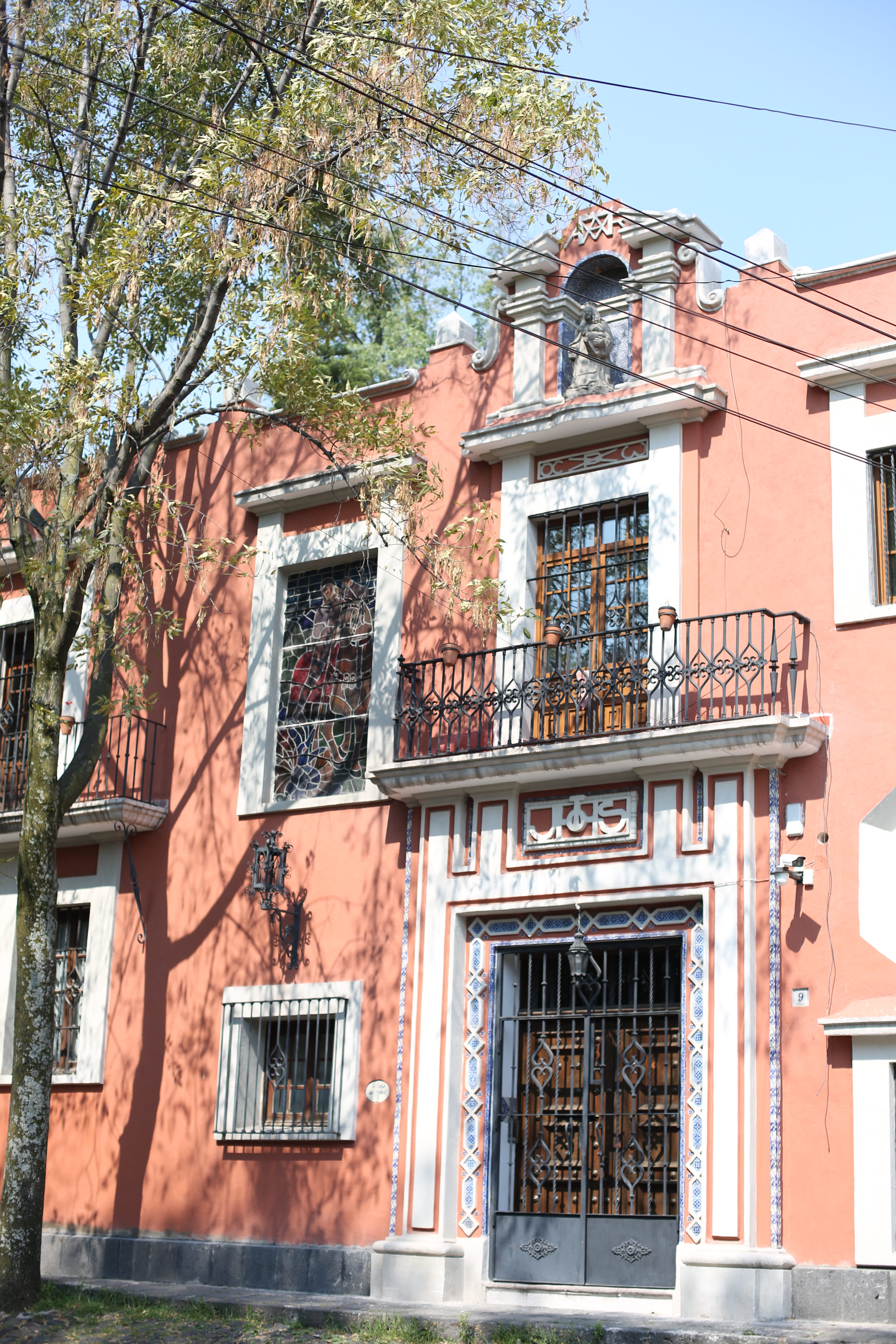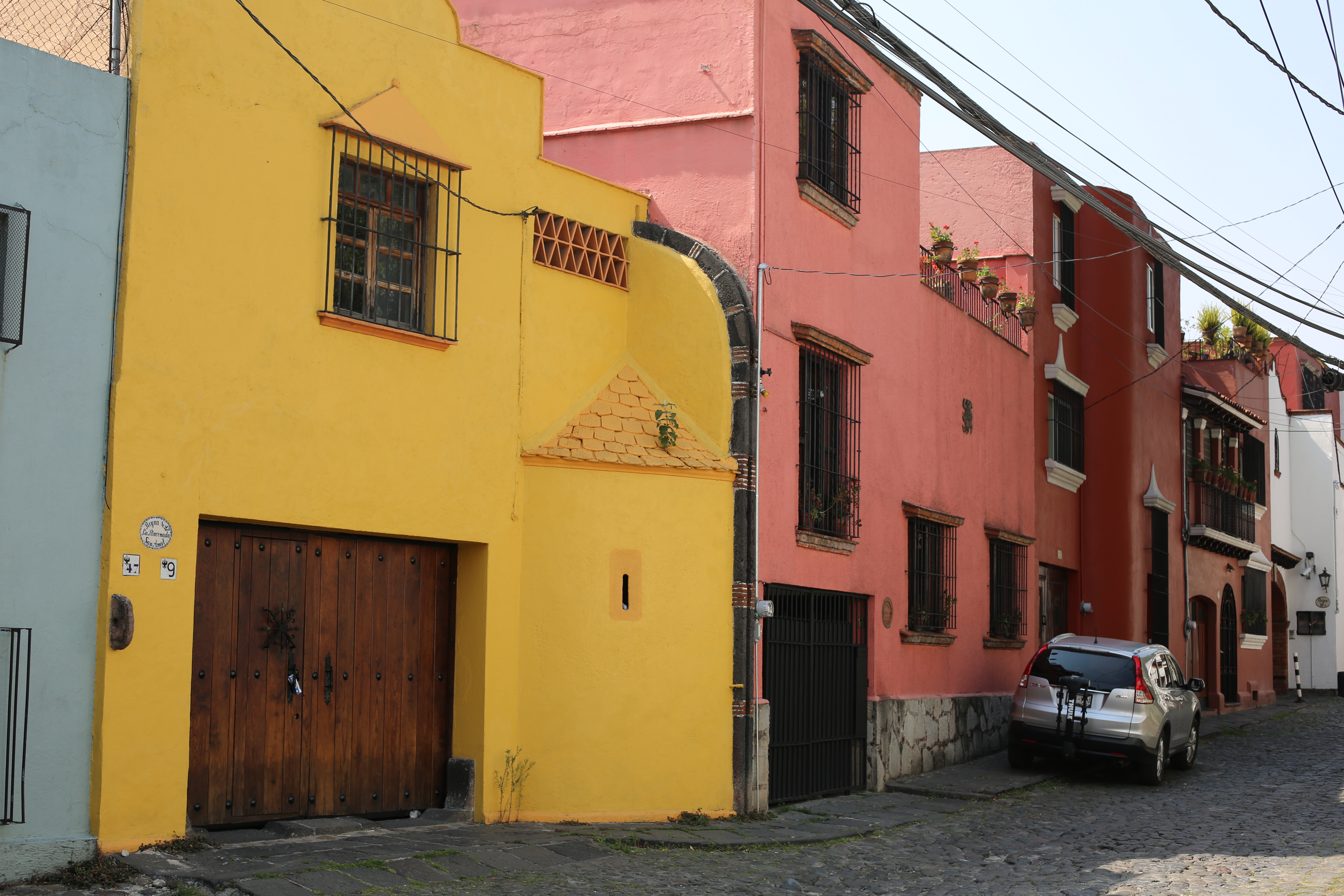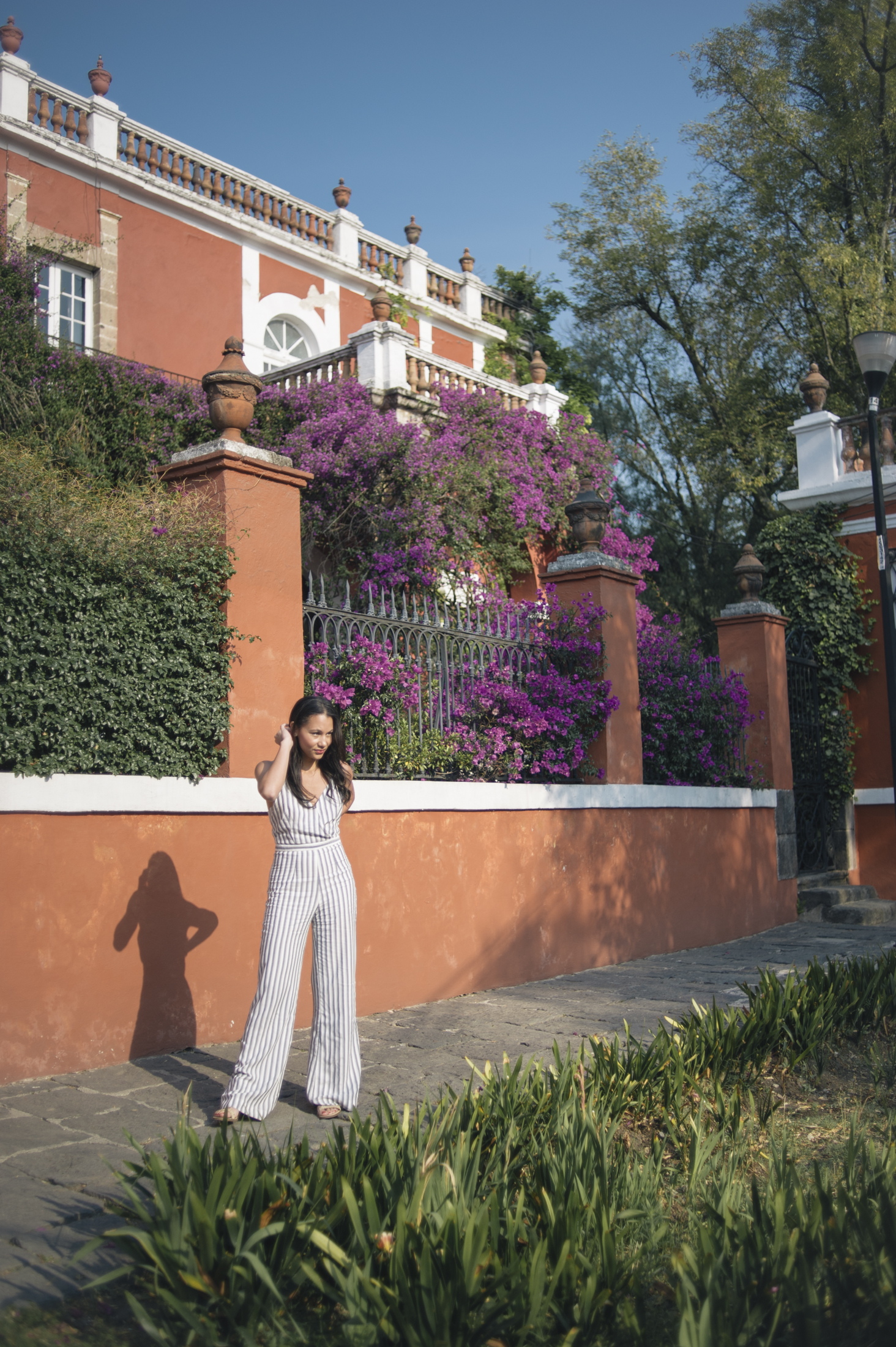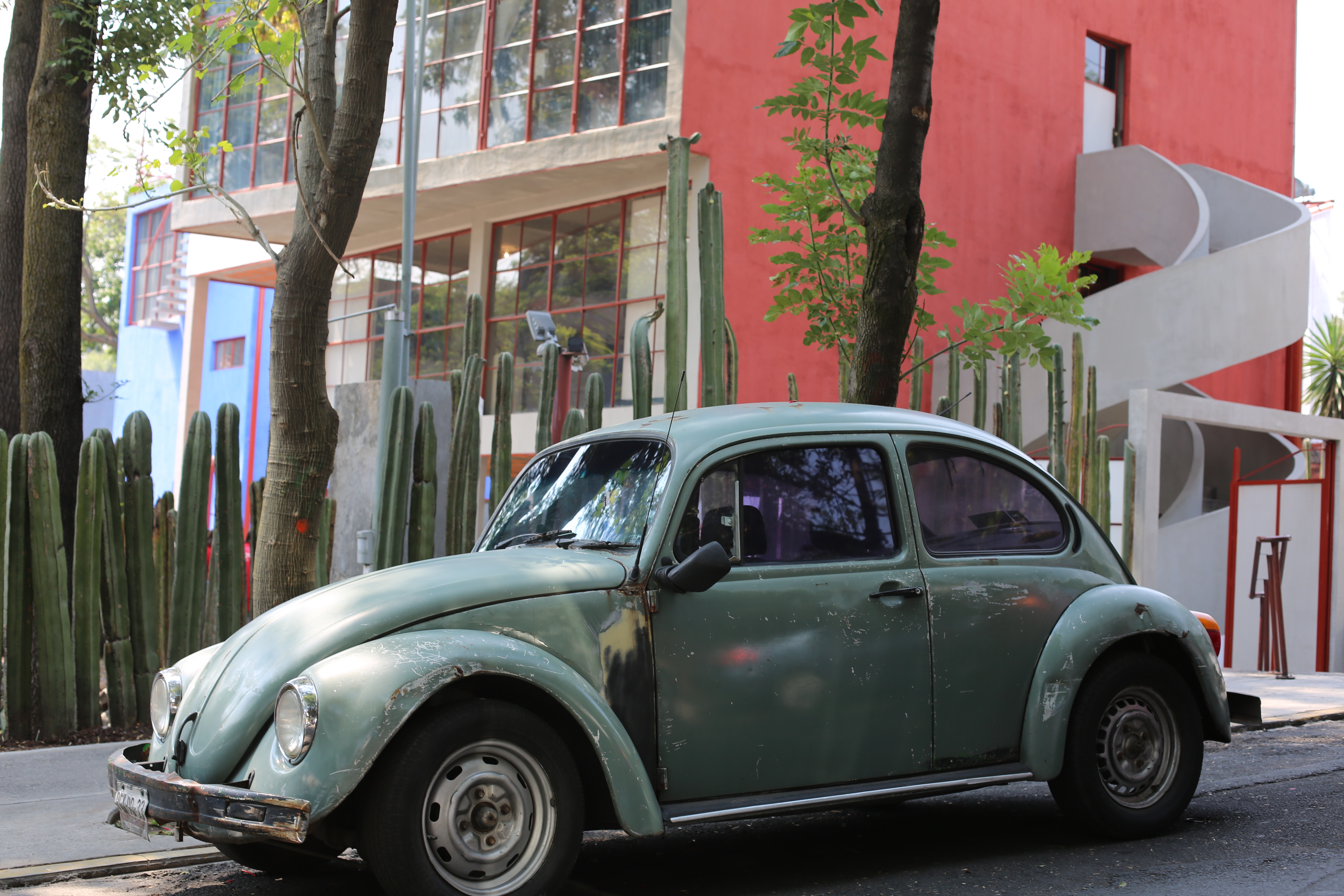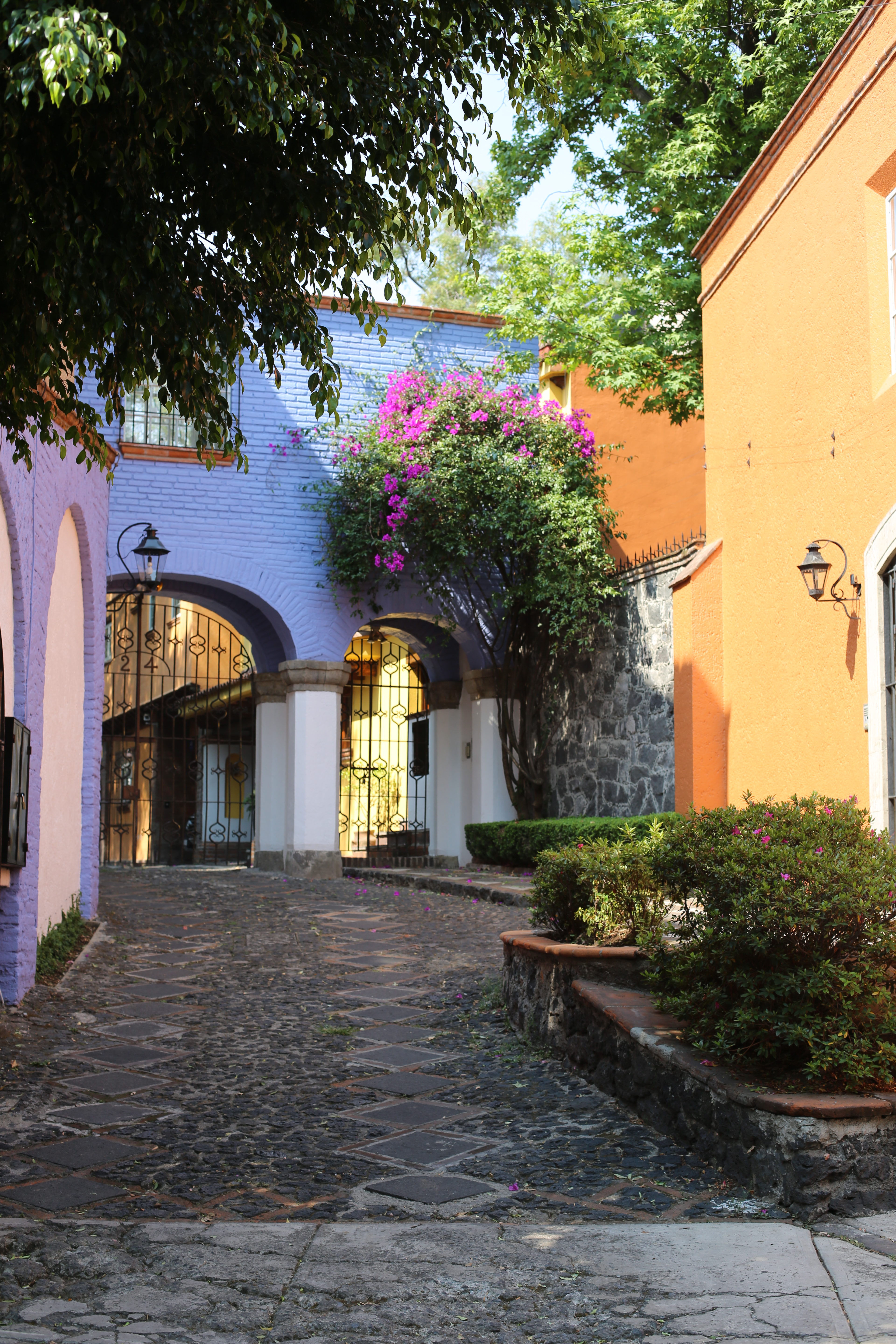 San Angel Neighborhood: This was the most magical part of Mexico City for me. Cobblestone streets, with little alleyways that gave way to huge bougainvillea trees, colorful houses left and right, church bells ringing every hour; it felt so surreal just walking around that neighborhood. Although it is primarily residential, Diego Rivera's house is right around the corner. Do make sure to note that Diego's studio and home contains the works of his own as well as other artists. It does not contain famous works by his wife Frida Kahlo. Another thing to note is that the house grants free entry to visitors every Sunday.
Museo Soumaya: We didn't have time to make it to this museum, but it's a must-see when visiting. The building itself is a work of art" the mirrored tiles that line the uncommon shape of the building reflect the sunset and make for a beautiful site. This museum was built for the late wife of Mexico City's wealthiest man Carlos Slim. It's free to the profit and is packed with art of all kinds. Boulervard Miguel de Cervantes Saavedra 303, Granada, Miguel Hidalgo, 11529 Ciudad de México, CDMX, Mexico
WHERE TO EAT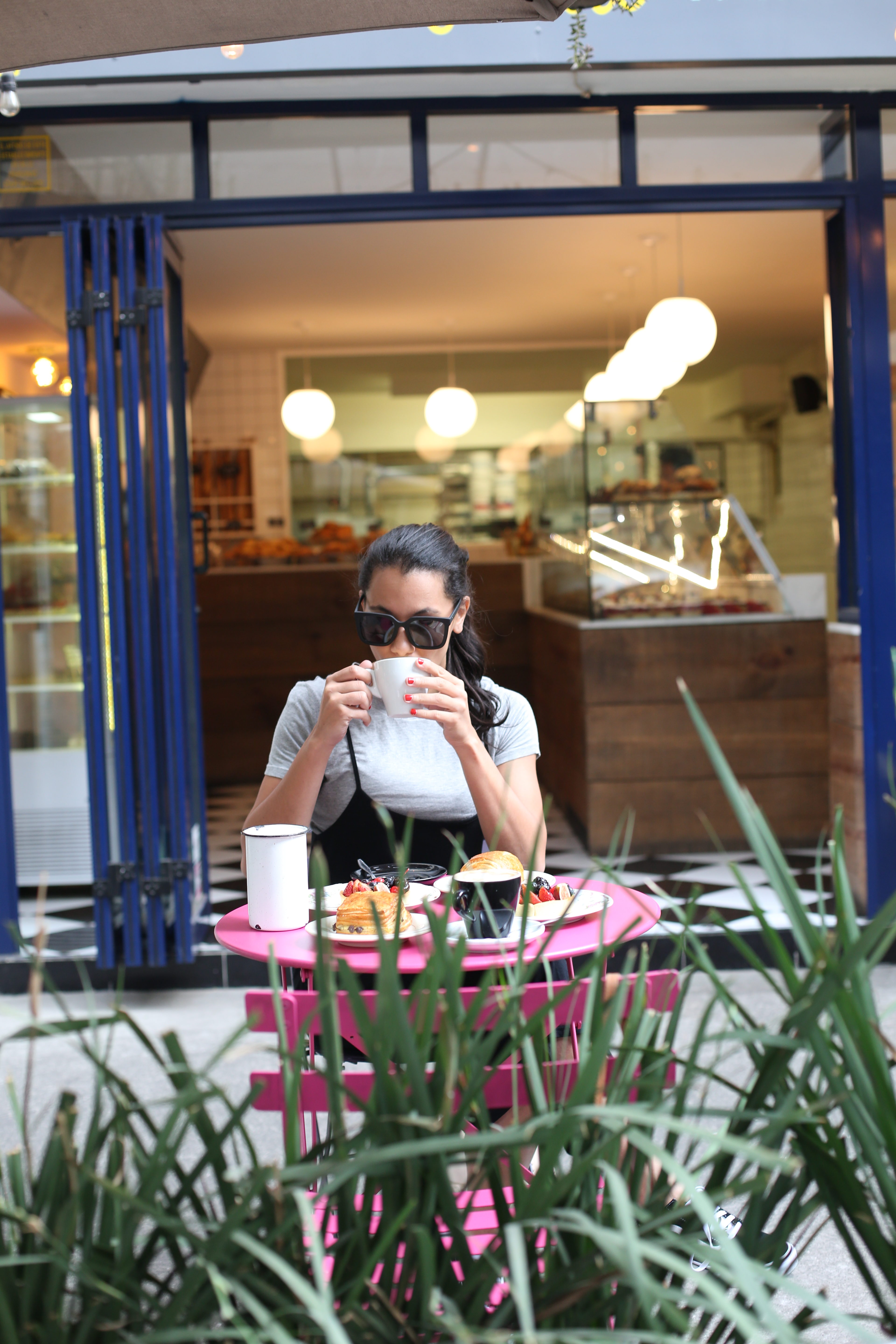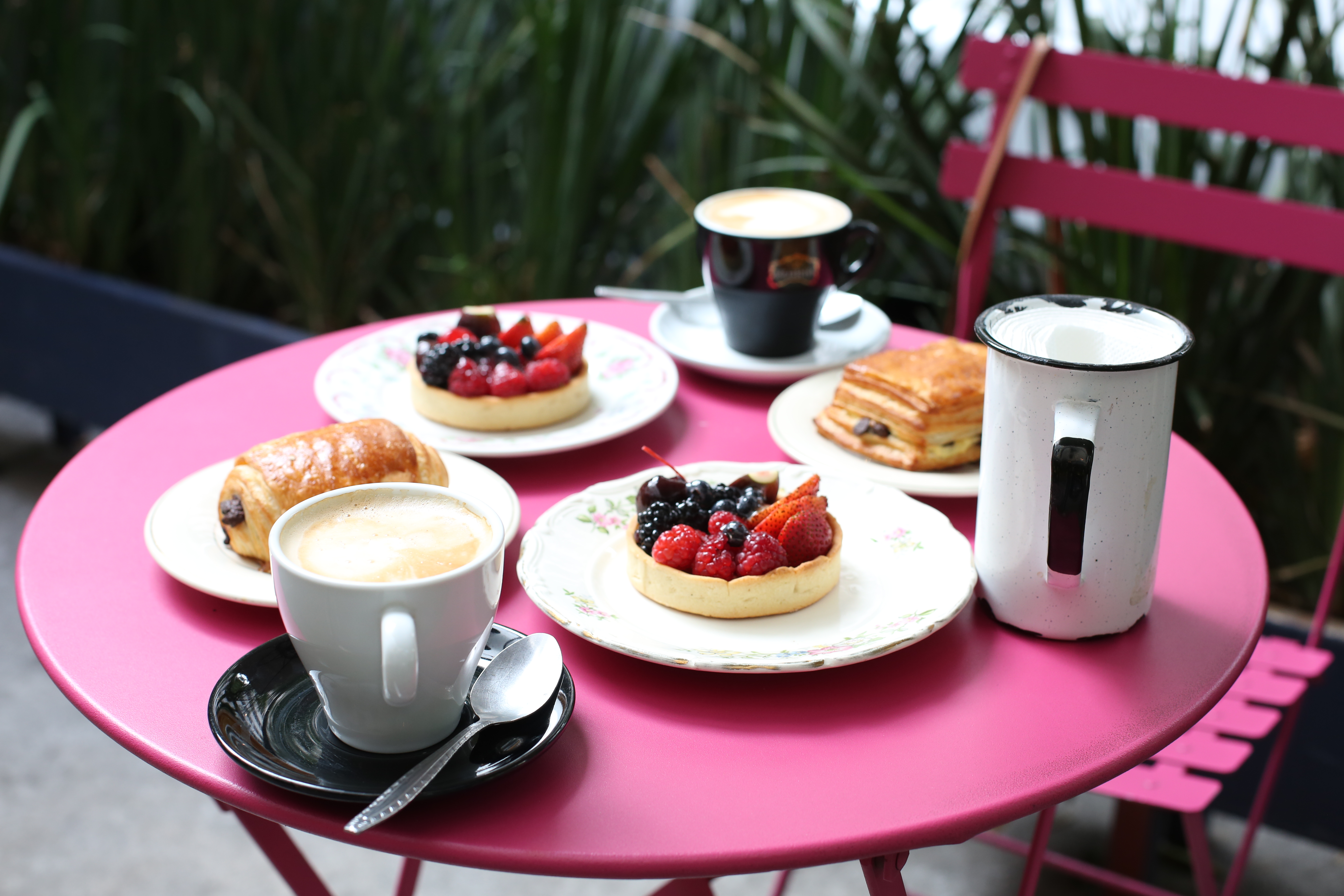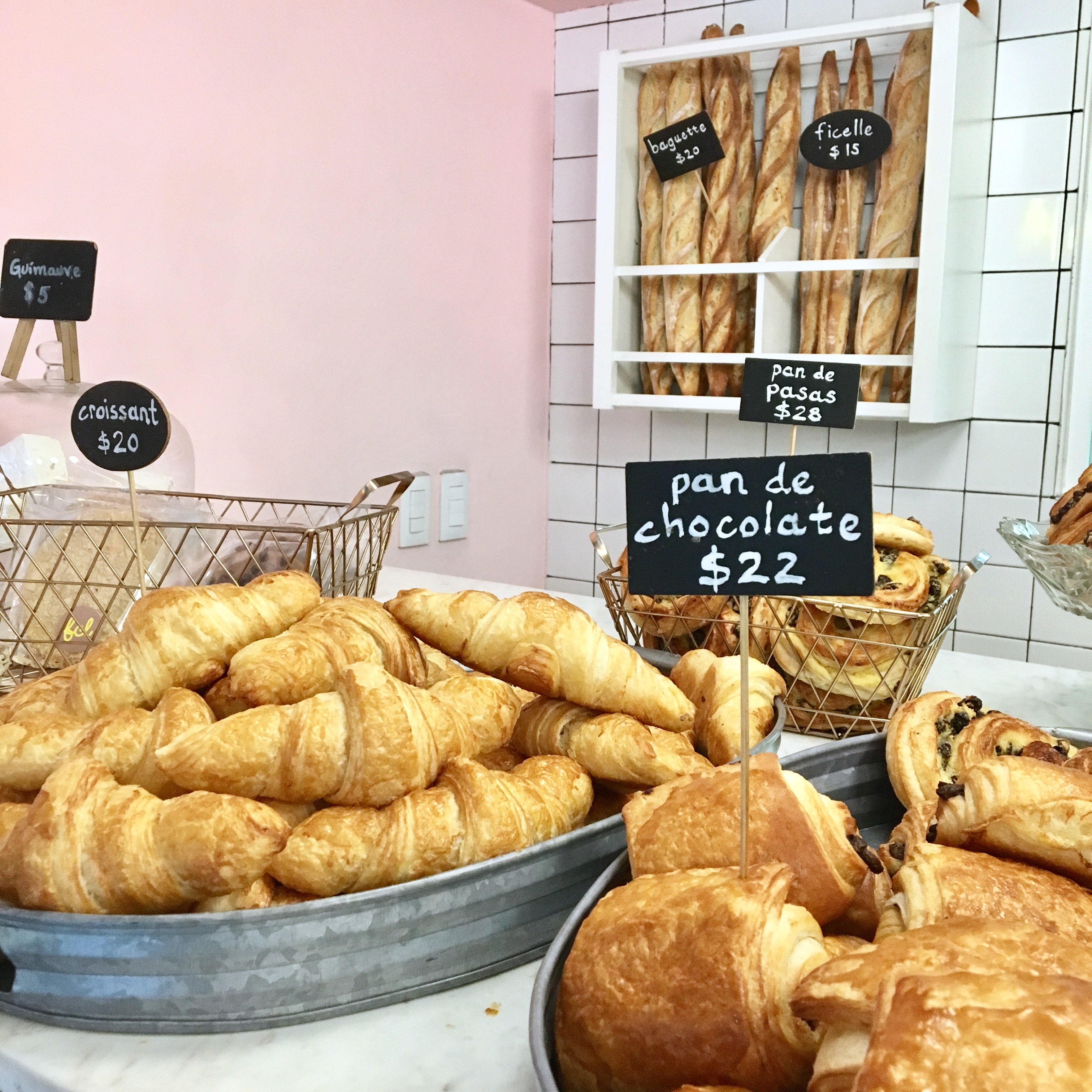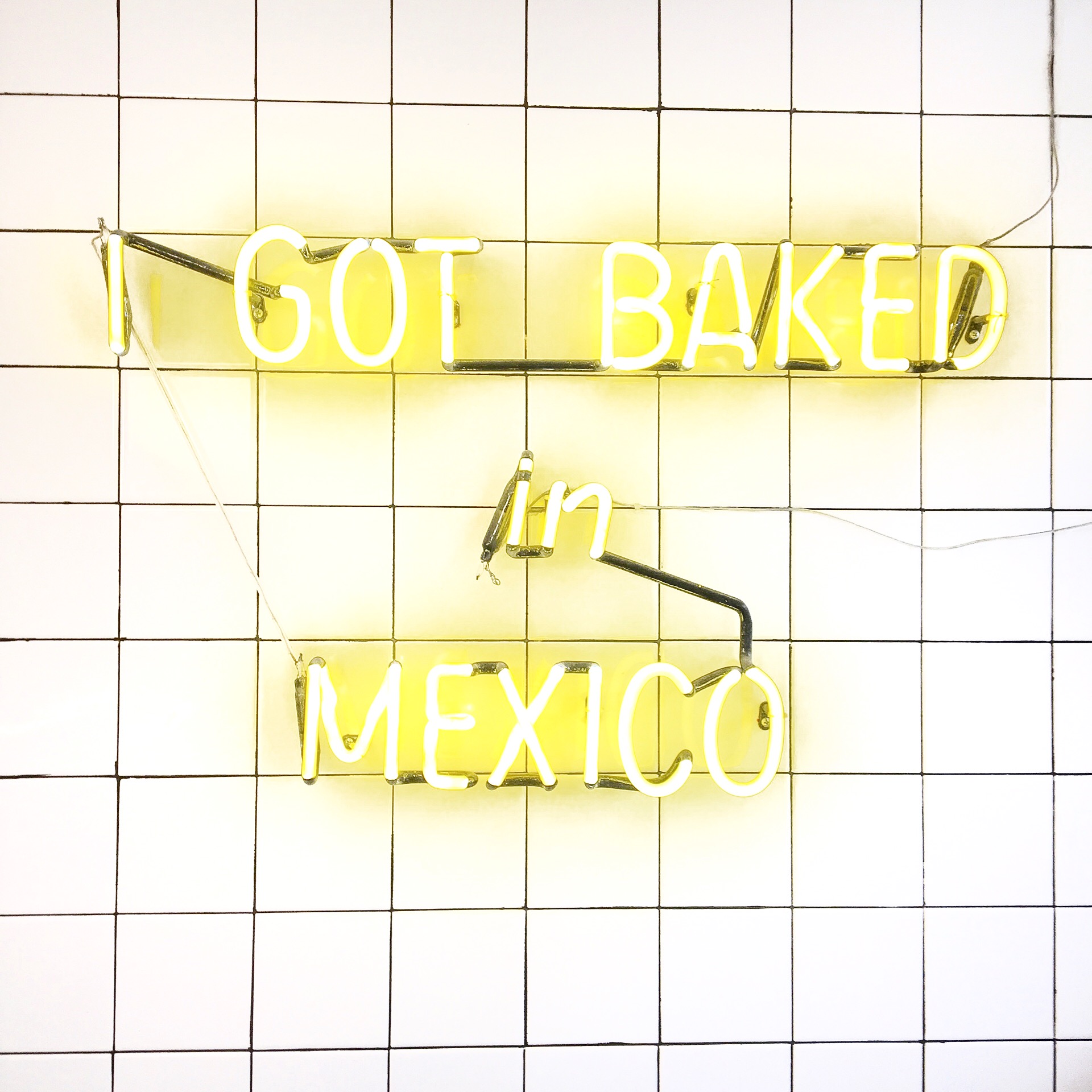 Ficelle: We found this French gem on this very last day of our trip. This cute, little bakery is located in La Roma. It's full of fluffy, flaky, creamy pastries that literally melt in your mouth. I highly recommend making a trip here if you have a full day planned or just want to grab a small bite, cafe con leche and watch the world go by. Tamaulipas 39, Cuauhtémoc, Condesa, Ciudad de México, CDMX, Mexico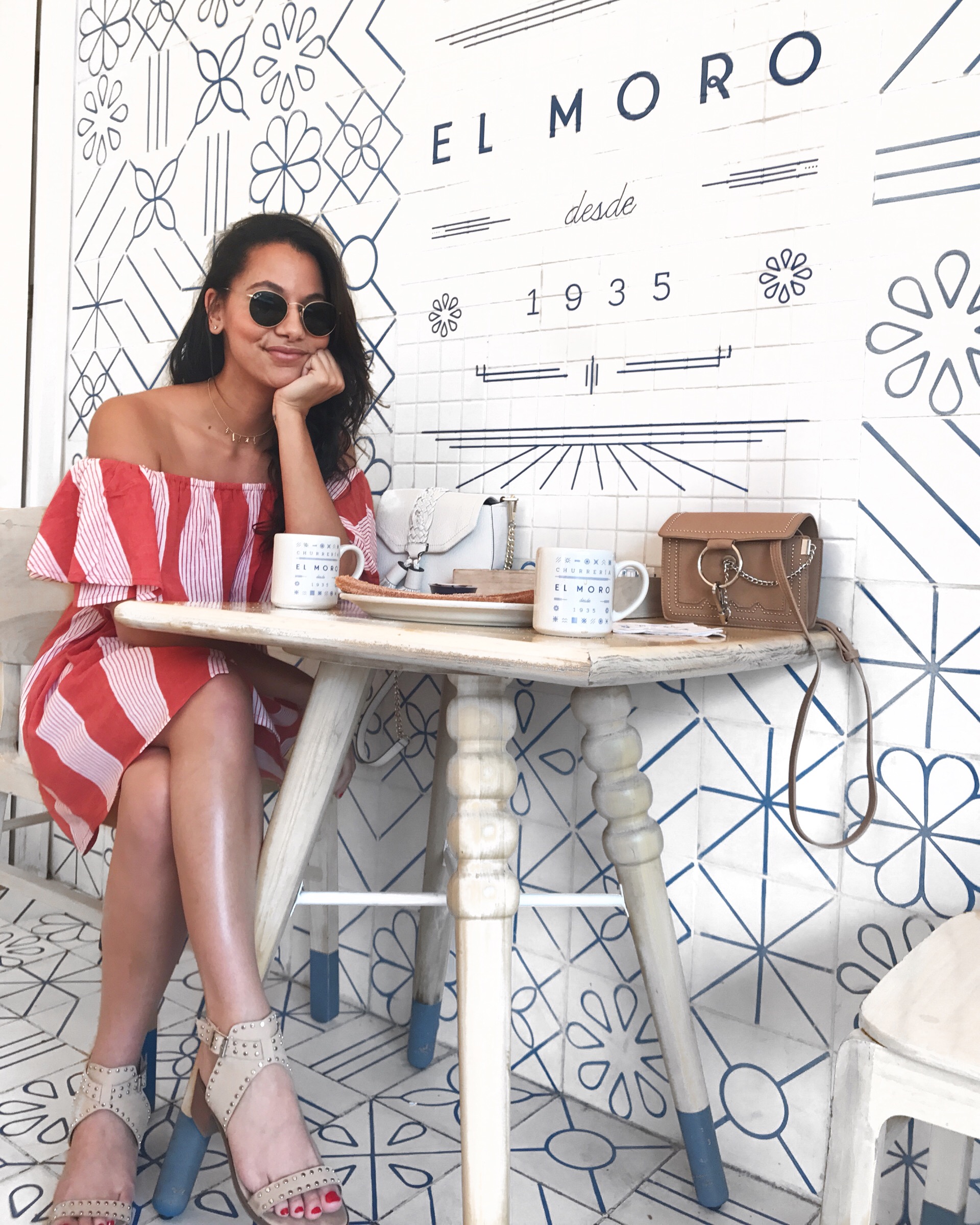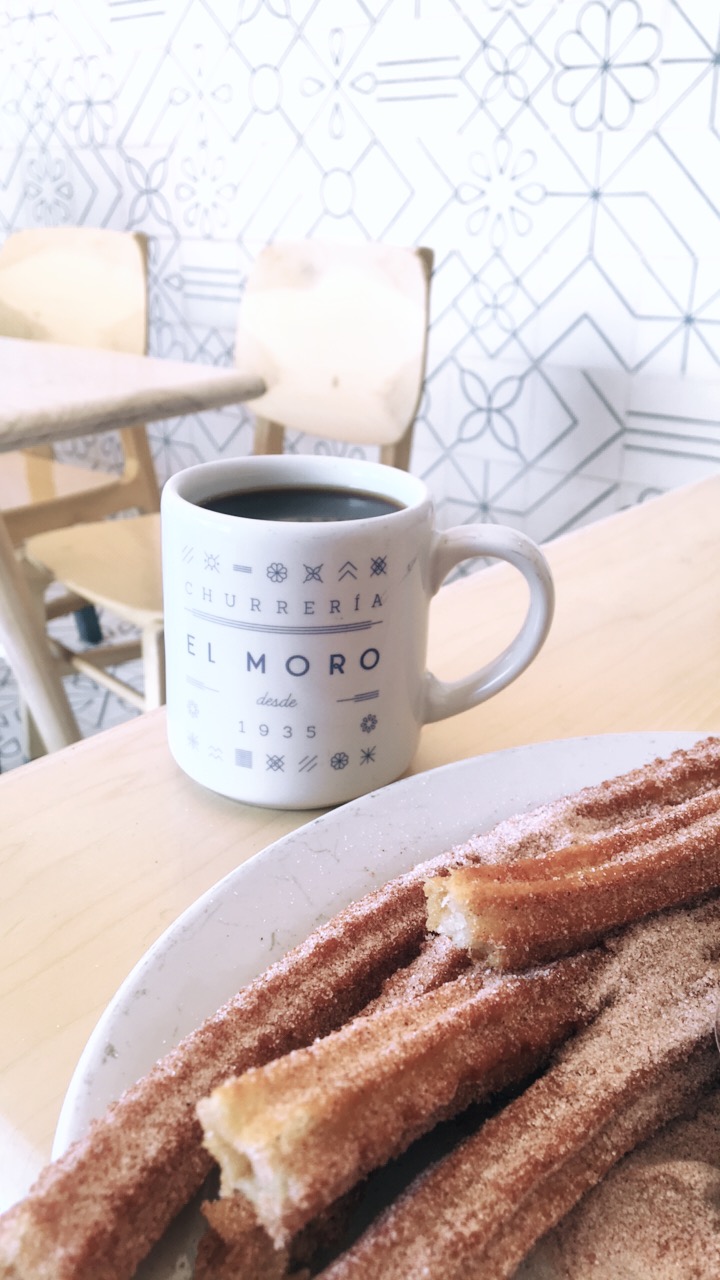 Churrería El Moro: I'm convinced that you've never had a churro until you've had a true, Mexican churro from here. This cafe has 5 locations in the city. If you want to go to the most Instagrammed location, make sure you go to Churrería El Moro in Roma Norte. The churros are made on the spot and come with your choice of 3 dipping sauces: chocolate, creme or caramel. Go for the chocolate! And don't forget to get a coffee, that served as my alternative dipping sauce when I finished all my chocolate!  Frontera #122, Roma Norte, Del Álvaro Obregón, C.P. 06700, Ciudad de México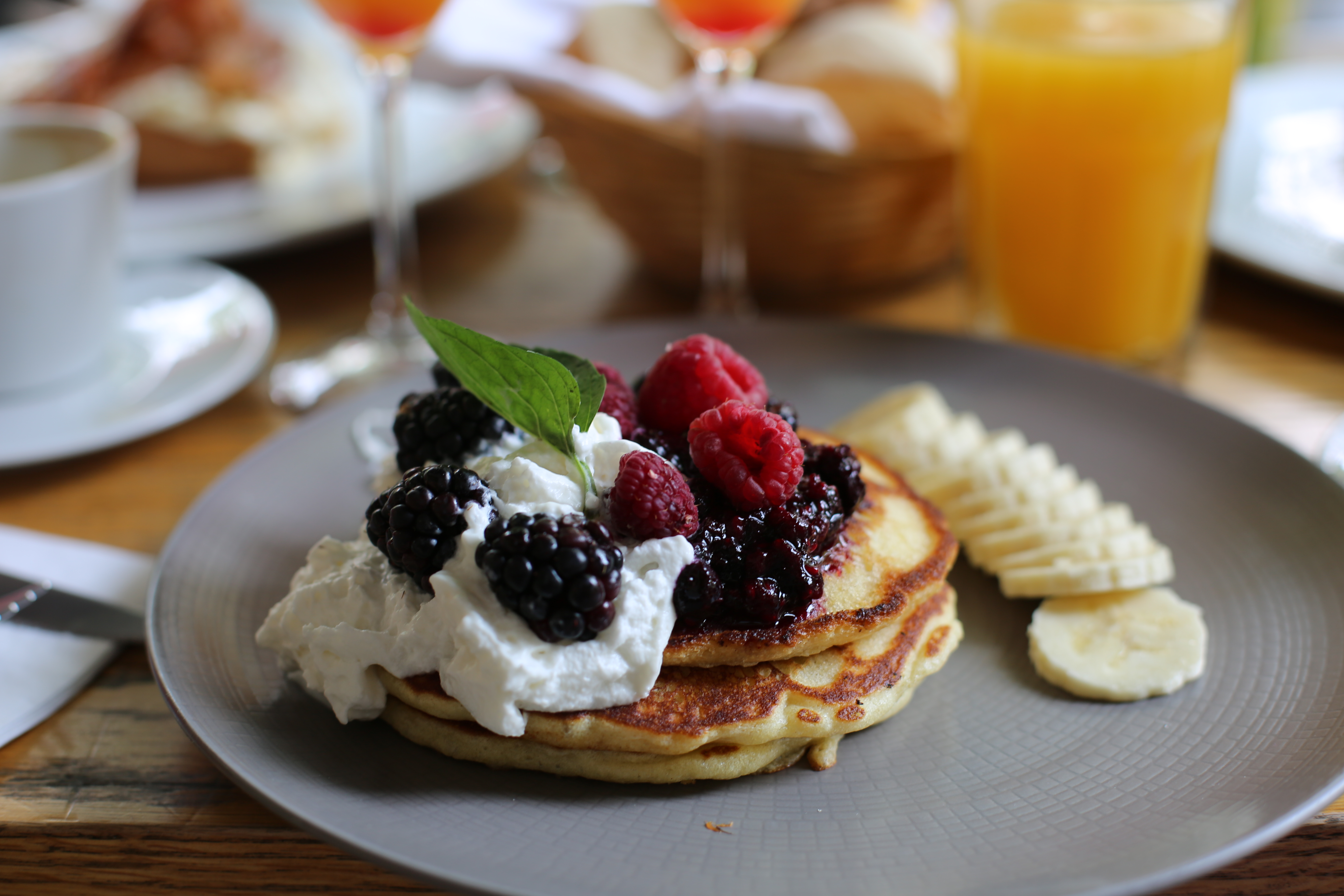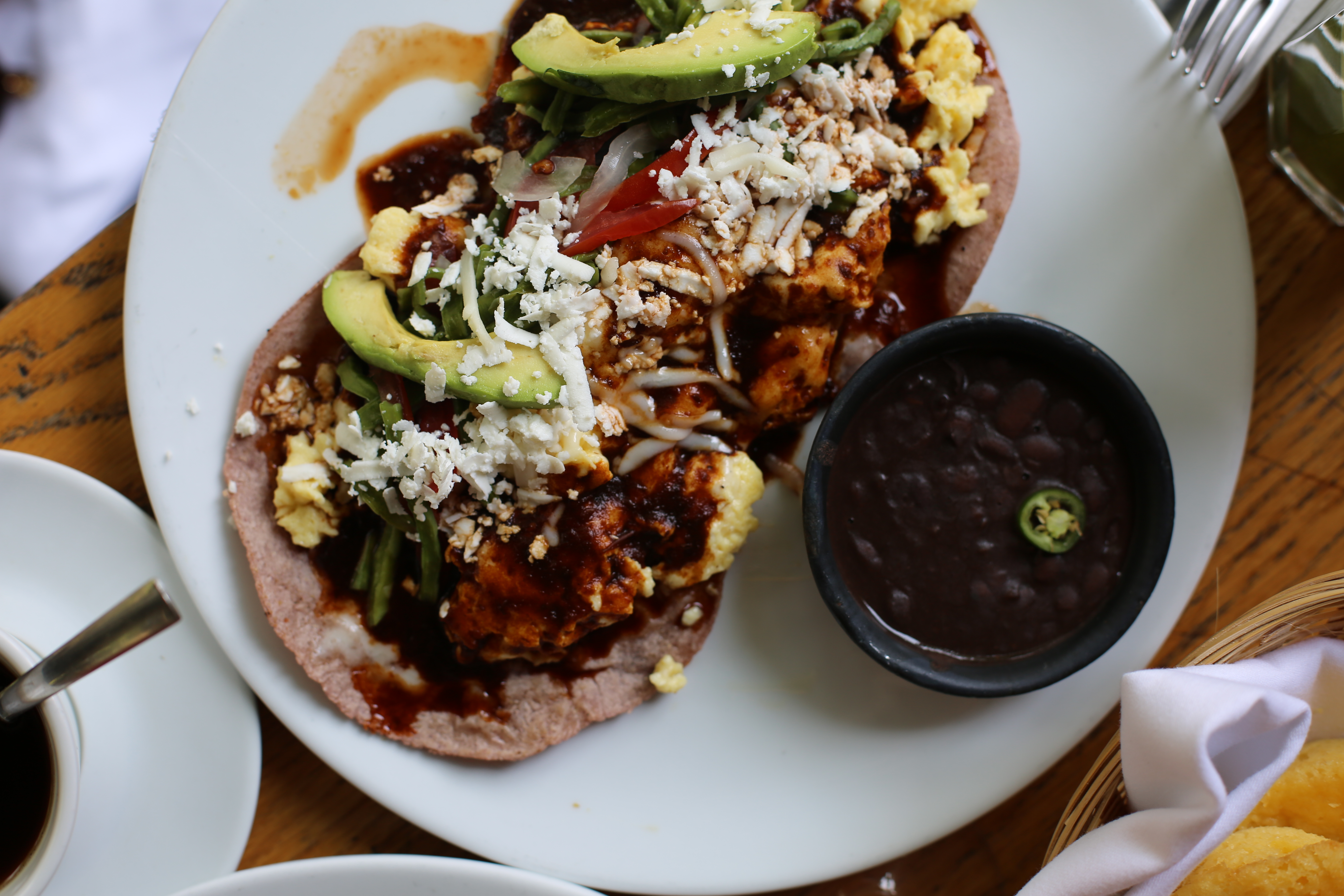 Zapote: Mediterranean-inspired fare. We happened to stumble upon this place during brunch time and we were very impressed. Seated outside on the sidewalk, we enjoyed our mimosas and glorious brunch plates. I can't recall the name of what I ordered, but you can tell that it was nothing short of delicious! 138 Guanajuato Roma Norte, D.F., 06700 Mexico
Cochinita Power: I'll be honest with you, I only wanted to come here because I found their Instagram page and all tagged posts were of this restaurants neon 'Conchita Power' sign. Needless to say, I'm happy we made the trip to Condesa to get more than just the perfect shot for our feeds. This ALL PINK open-air restaurants specializes in pork tacos that will rock your world. Ignacio Manuel Altamirano 19, San Rafael, 06470 Ciudad de México, Mexico City, Mexico
Mexsi Bocu: This was the first restaurant that dined at after landing in Mexico City! It was conveniently located 3 blocks from our AirBnb. Located in Condesa, this romantic, millennial pink, chandelier-draped restaurant was the perfect spot for us to get an introduction to the city. We enjoyed mojitos and guacamole, as well as some vegetarian options (which is a little difficult to find!). One thing to note: guacamole is not the same everywhere! The guacamole was made of the spot, with little salt, a few onions & tomatoes and no lime. We quickly learned to stray away from our staple Mexican favorites and try new dishes! Calle Durango No. 359, Cuauhtemoc, Roma Norte, 06700 Ciudad de México, Mexico City, Mexico
Mercado Roma: Super modern open food hall with communal seating that carries everything from authentic Mexican bean coffee to super green quinoa bowls. This Roma Norte hot spot is definitely worth checking out if you are looking for a quick bite to eat. Calle Querétaro 225, Roma Nte., 06700 Ciudad de México, Mexico City, Mexico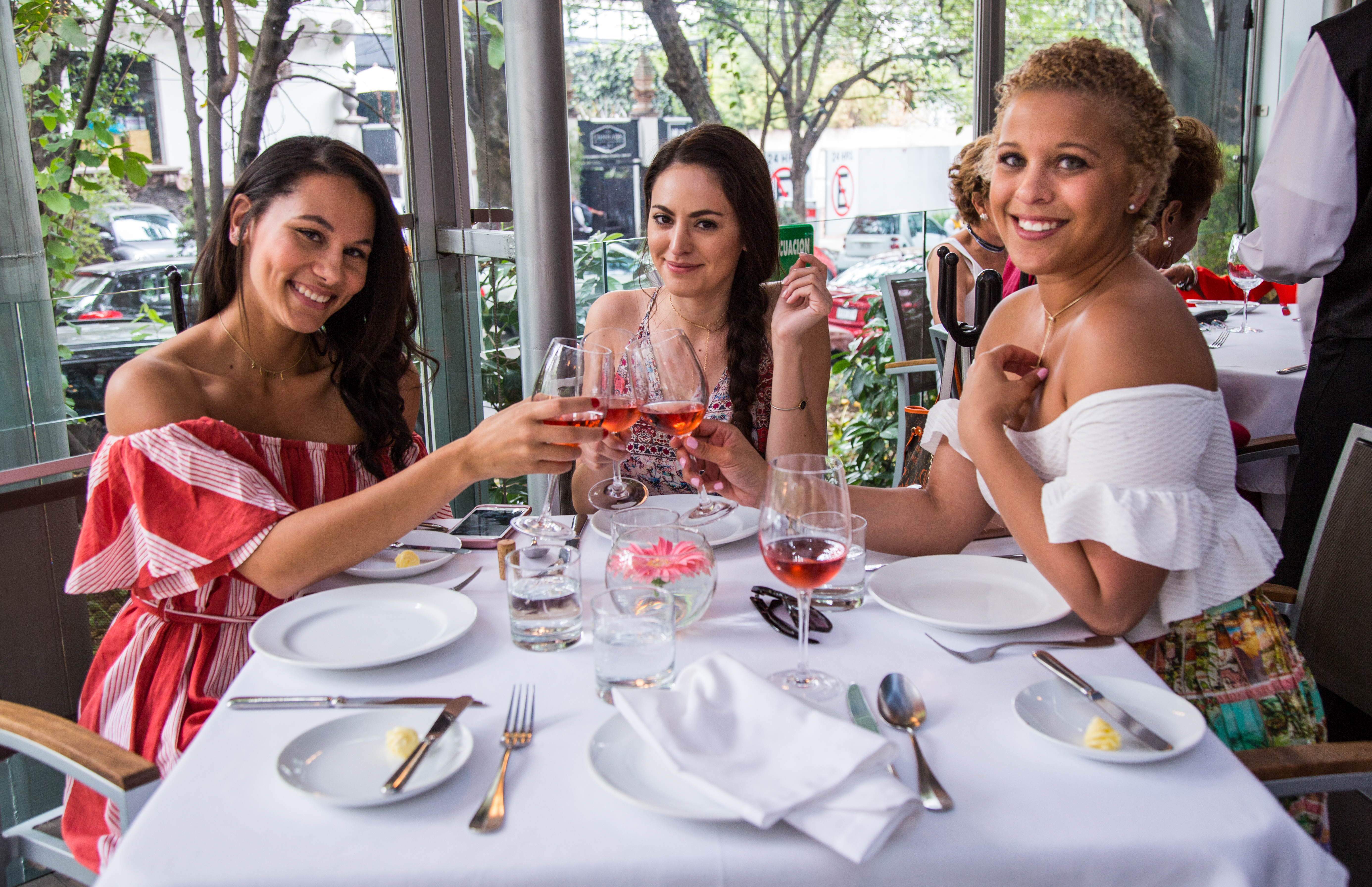 Morablanco: Romantic, airy restaurant situated in a gorgeous mansion across from Lincoln Park in the ritzy Polanco neighborhood. The service was exceptional. At one point, we had a rotation of 5 waiters just for our table! I would recommend getting the cheese plate a bottle of wine. Calle Emilio Castelar 135, Delegación Miguel Hidalgo, Col. Polanco, 11560 Ciudad de México, Mexico City, Mexico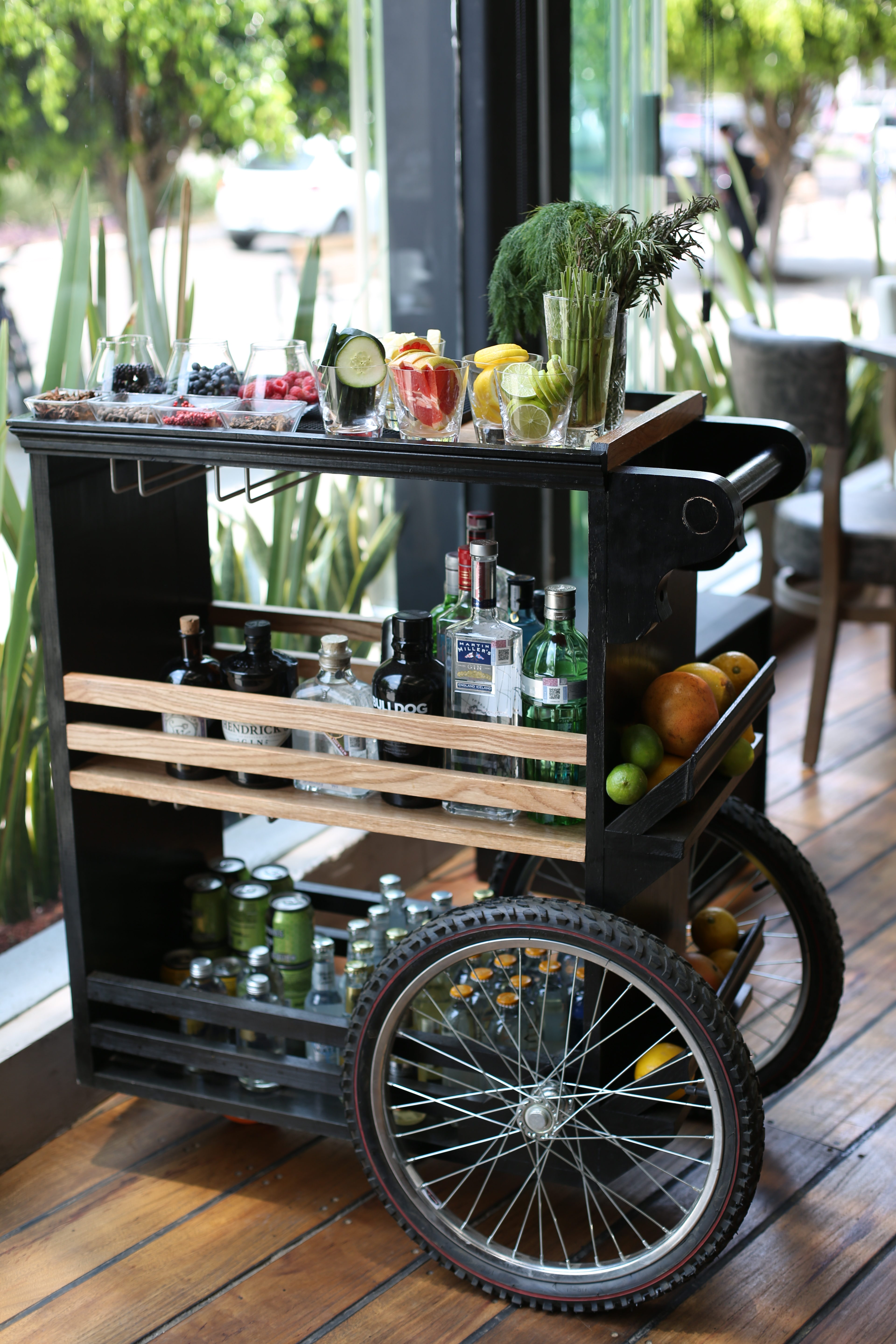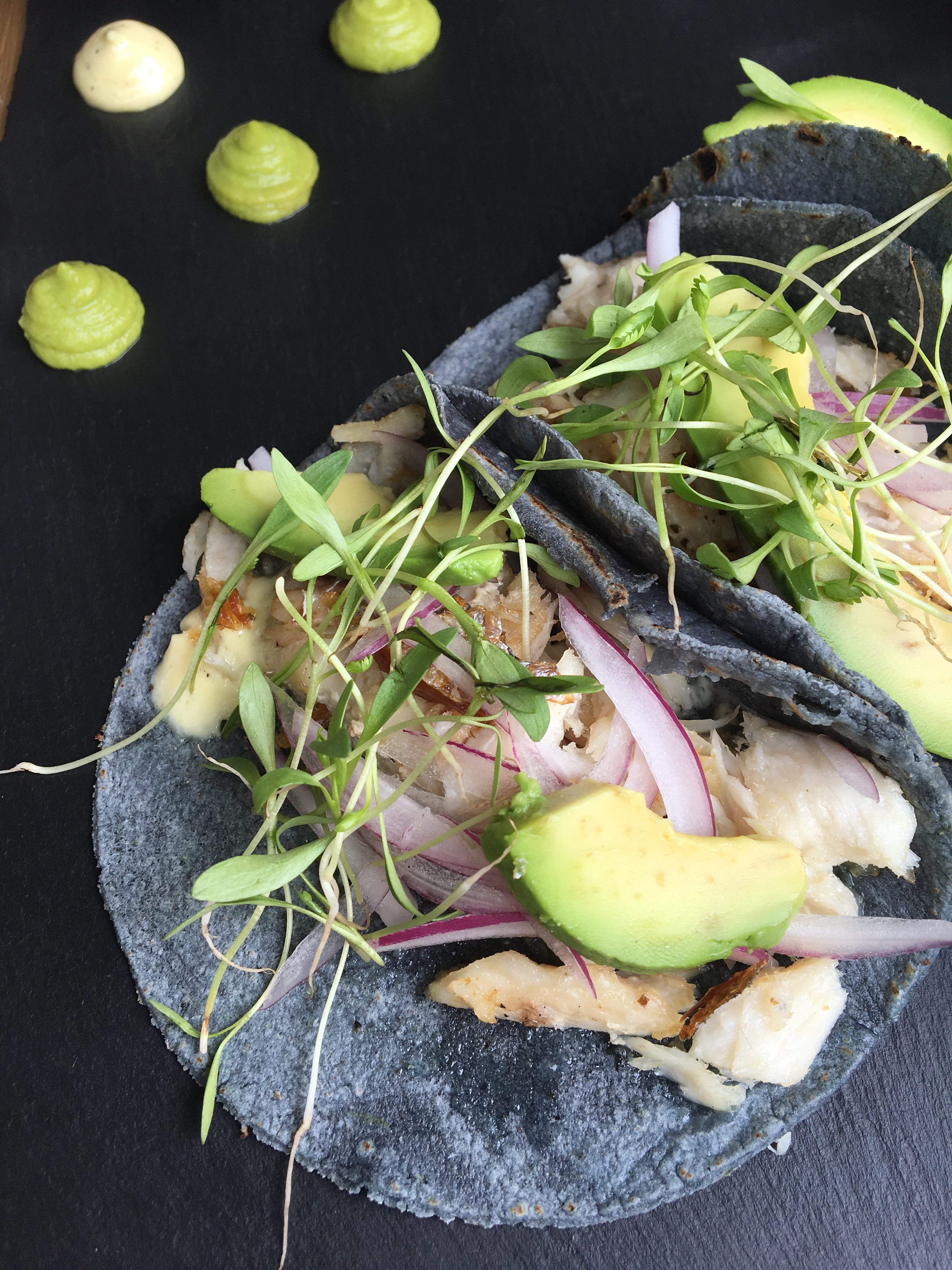 Rosa Negra: Another Polanco spot that specializes in Latin American fare and killer cocktails. These were the best cocktails I had in Mexico City, handsdown. Cocktails are made at the table and use unique ingredients like peppers, honey and dragon fruit. The food was just as amazing. We started with empenadas and elote (street corn). I had the fish tacos and I was transported to another planet. Av. Pdte. Masaryk 298, Polanco, Polanco IV Secc, 11550 Ciudad de México, Mexico City, Mexico
WHERE TO DRINK
Jules Basement: Coolest speakeasy in the city. It's very exclusive, to the point that you must have a reservation to even enter, and only 'members' can have a seat at tables. It's so exclusive that locals were baffled at the fact that we found this bar! The cocktail list is impressive and the live jazz music is worth sticking around and having a drink or too. Julio Verne 93, Polanquito, 11560 Miguel Hidalgo, CDMX, Mexico
Felina: This was the ideal super chill, small bar to start out the night. We had our first mezcal shot here and it was not pretty. If you don't like tequila, don't be daring and try mezcal. We almost hit the floor. Calle Ometusco 87, Hipódromo, 06100 Ciudad de México, CDMX, Mexico
Gin Gin: This Roma Norta spot was one of my favorites. Nauteally, the drinks of choice contain gin, and they were to die for! Later in the evening, Gin Gin brings out a DJ and the restaurant transforms into an intimate lounge. The crowd shifts from curious tourists to artsy locals looking to congregate and have a smoke. Av Oaxaca 87, Roma Nte., 06700 Ciudad de México, CDMX, Mexico
Cafe Paraiso: Perfect spot for an eclectic night out. The decor of Cafe Paraiso is jungle boogie themed: checkered floors, banana leaf print walls and pink neon signs. Expect to dance ALL night long and have the best time ever! Plaza Villa de Madrid 17, Roma Nte., 06700 Ciudad de México, CDMX, Mexico
Pata Negra: If you're in the mood to shake your tush to old school Daddy Yankee, Beyonce, and other party heavy hitters, look no further. This bar has a dance floor that welcomes everyone and cheap drinks that'll make you stay for one more song. Tamaulipas 30, 1er Piso, Cuauhtémoc, Condesa, 06140 Ciudad de México, CDMX, Mexico
WHERE TO SHOP 
Ciudadela Market: Traditional market where vendors sell everything from ornate porcelain dishes and Oaxaca (intricate, hand-painted wooden figurines) to colorful pom poms and soft leather duffle bags. If you're looking for something unique to Mexico, make sure to spend a few hours here. This was where I spent the most money on the duration of our trip!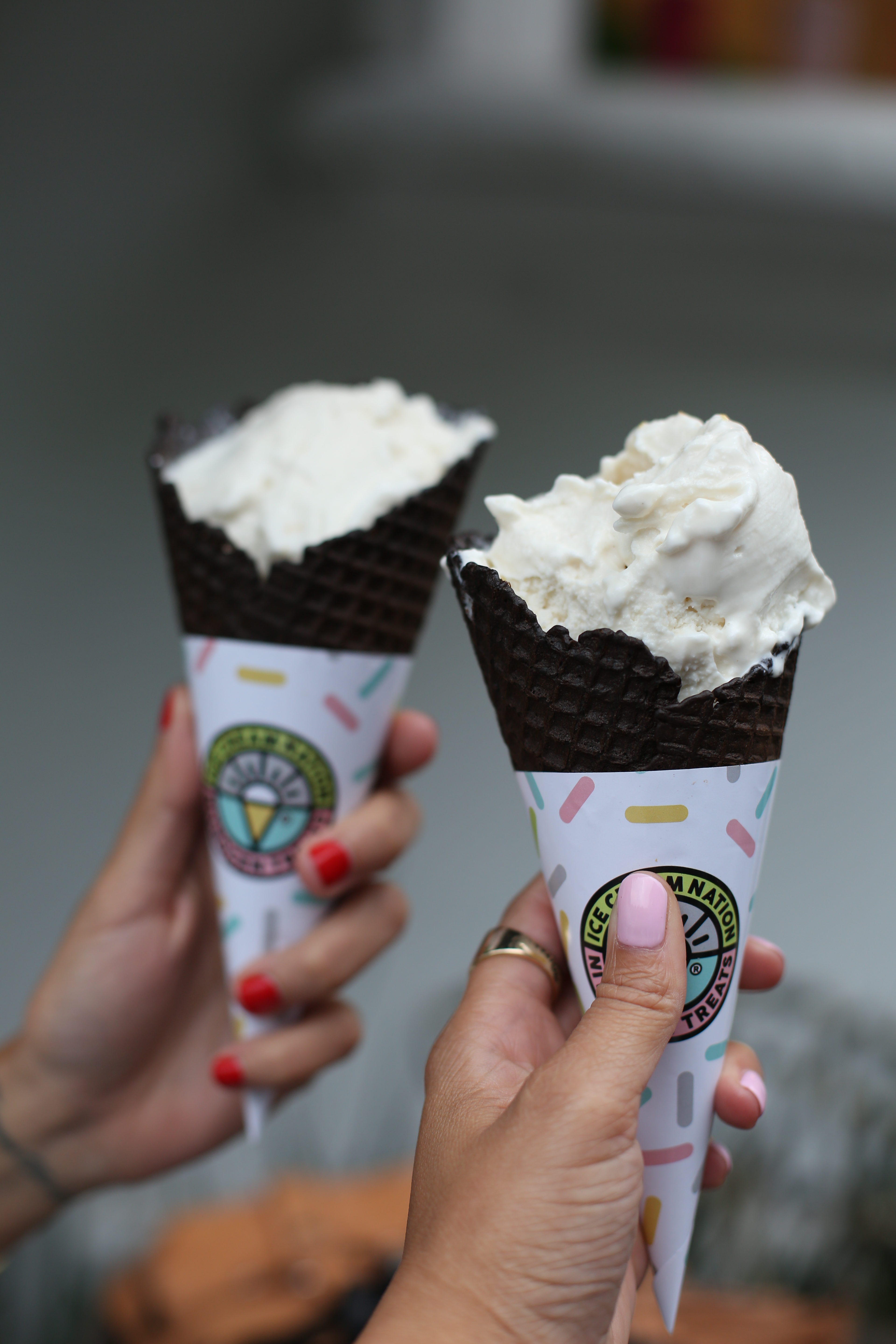 Ice Cream Nation: So you may be wondering why I'm suggesting shopping at an ice cream shop, but it's the shop that's located within the same house as the ice cream shop! (Actually, the ice cream was amazing, don't pass it up!). This unique store carried international brands and quirky little knick knacks. Be sure to check it out!
Polanco: This neighborhood is teeming with boutiques and national luxury chains. Take a walk down Avenida Presidente Masaryk and gawk at all the beautiful storefronts.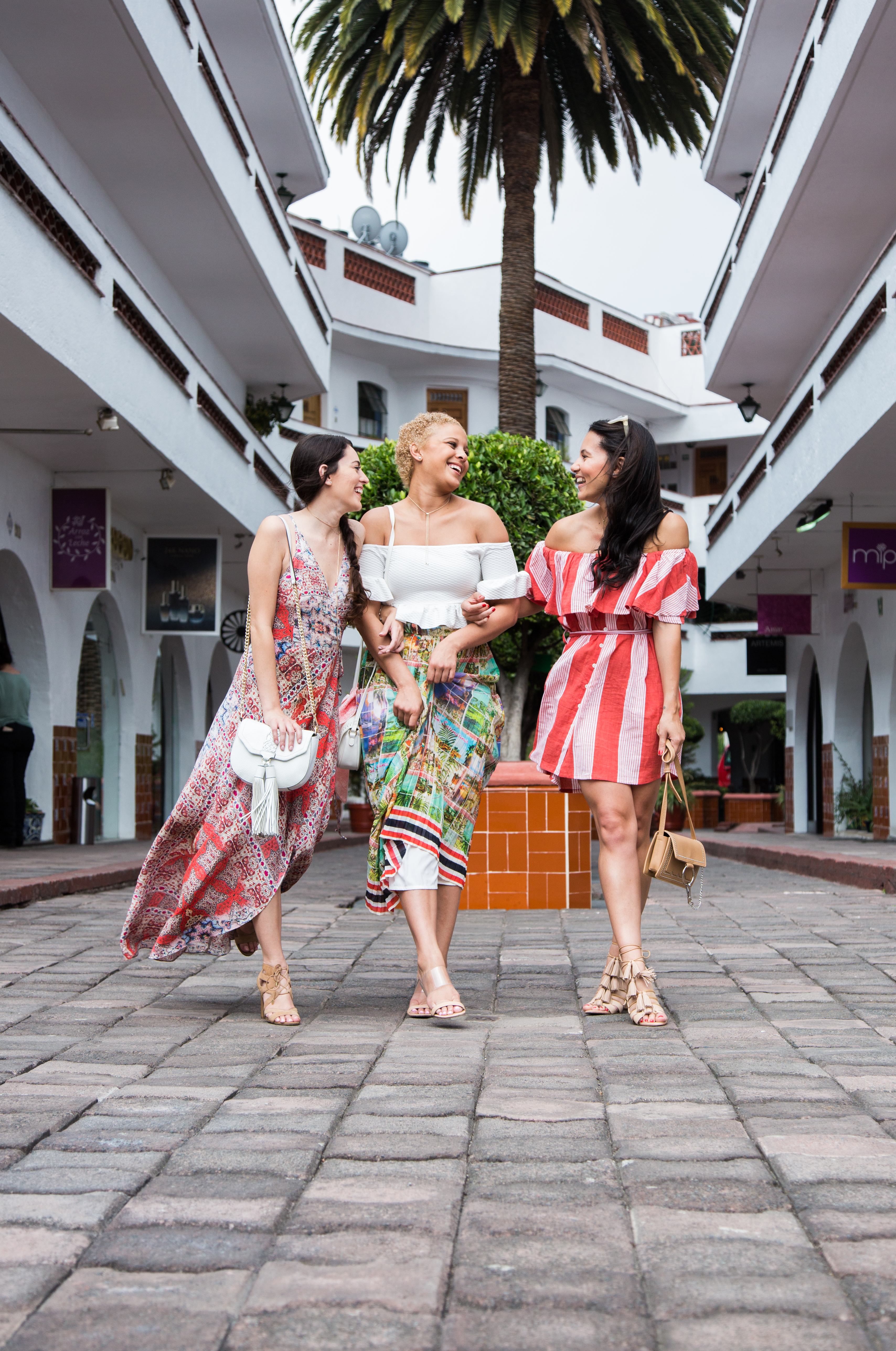 I had the time of my life. Mexico City, thank you for sharing all your magic.
Shop the post: